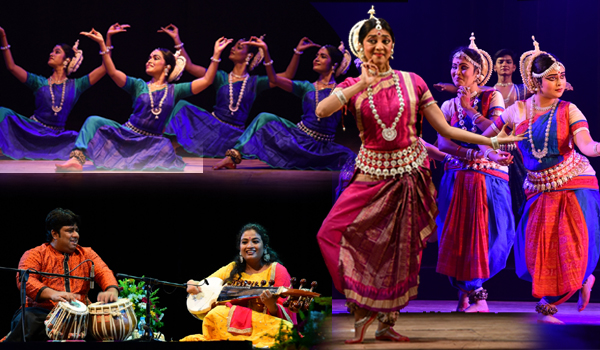 By Dr. Sunil Kothari   
25th edition of Guru Kelucharan Mohapatra award Festival was an ample proof of maturity of Ratikant Mohapatra, the legacy bearer of Guru Kelucharan Mohapatra and a noted choreographer on his own capacity. He is carrying on the legacy of the great Guru, with dignity, sincerity and devotion. In terms of sheer organization of seven day festival, featuring the excellent young generation of musicians ,scouting them taking suggestions for organizers and enlisting support of several institutions, agencies, sponsors, governmental and private, and presenting local dancers, dance gurus, their disciples in group compositions, inviting each day the leading personalities from different walks of life, honouring the dancers, musicians, accompanists and contemporaries of Guruji and his own contemporaries Ratikant won our great admiration. Having know him from childhood and seeing him maturing with the passage of time, scaling artistic heights in his own solo performances and group choreographies, we knew that he has done Guruji proud. Guruji's tradition is in safe hands.
Besides honouring the traditional guru ,musician like Pandit Harmohan Khuntia , an exceptionally gifted Tabla player ,disciple of Guru Khetra Mohan Kar, Radha Govind Ghosh and  Gyan Prakash Ghosh, in Odissi dance Guru Durga Charan Ranbir, the celebrated exponent of Guru Deba Prasad Das  gharana of Odissi dance, the others who were honoured were including me, Smt. Leela Venkataraman, the renowned dance historian, author and commentator ,known  for her incisive writings on various aspects of the performing arts; the one and only internationally renowned photographer specialized in dance photography, Avinash Pasricha, whose most memorable photos of Guru Kelucharan Mohapatra are seen world over.
From younger generation of dancers Swapnokalpa Dasgupta, , Rahul Acharya and Rajashri Praharaj for Odissi,Dr Anewsa Mahant for Sattriya and Satyabrata Katha for Odissi music.
The award has been considered as the highest award for artistic excellence. For the young generation of artists they will encourage them to further develop excellence in their artistic pursuit.
Avinash Pasricha and I arrived on the 8th September; therefore we could see performances scheduled on last four days.
On 8th September the opening music was by vocalist Indrani Mukherjee, who trained after learning from her parents at ITC Sangeet Research Academy, Kolkata for twenty years under Arun Bhaduri. For last eight years she has been studying under Vidushi Manju Sundaramji of Varanasi. She is a brilliant Hindustani vocalist and Thumri exponent. Her rendering was outstanding . Mature and appealing.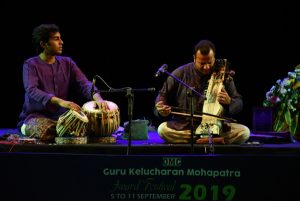 Jyotsna Rani Sahoo, a disciple of Raghunath Dutt at KVK runs her institution Soor Mandir at Cuttack. She presented Rasanuraga scripted by Srinivas Ghatuary,to the music by Agni Mitra Behera and rhythm by Dhaneswar Swain. Her choreography reflected Kelucharan Gharana. Her troupe had uniformity. The story dwelt upon rainy season when her beloved was away. She sends message with a bird to her husband, who returns after receiving the message and they dance happily. Srinivas Ghatuary appeared in a cameo role of the husband who was away on a sojourn. It was a good idea of including dancers who had studied earlier under Guru Kelucharan Mohapatra with their groups in this festival.
Gajendra Panda is a disciple of Guru Deba Prasad Das and runs Tridhara institute training dancers in Deba Prasad Das's style. He chose to present prayer of Lakshmi Nrusingha Dhyana. The images of Lord Nrusingh and Lakshmi pressing his feet, Brahma seated on a lotus, springing from Nrusingh's (Vishnu's) navel were arresting. The use of sabdaswarapata was appropriate. The group consisting of female dancers danced with ease and were in sync. Except that Gajendra's son with his bulky body and 'buck teeth' did not create a pleasant impression. If Gajendra sees that his teeth are straightened, under a competent dentist, it will help his son to present dance in more appealing manner.
Kirvani Pallavi to the music composed by Lakshmikant Palit had all the salient features of Guru Deba Prasad Das style.  During this performance Gajendra displayed good choreography and his own dancing was commendable.
The dancers concluded the programme with Ram Bhajan. The music was set by Gopal Chandra Panda and the rhythm was by Dhaneswar Swain.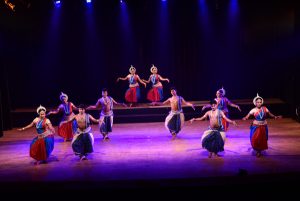 On 9th September Debasmita Bhattacharya, disciple of Buddhadev Dasgupta from Kolkata with Sandip Ghosh, an ace Tablist gave excellent recital on Sarod playing, Raga Durga in all its majesty. It was Mellifluous and created appropriate ambience. It was obvious that she has immense versatility and explored a variety of musical nuances effortlessly. Sandip Ghosh on Tabla gave support on note to note effortlessly. To a farmaish, request from an audience member she played Pilu, a composition of Buddhadev Dasgupta in a flawless manner.
Nupur run by Niranjan Rout, trained by Guru Pankaj Charan Das, Guru Deba Prasad Das and Guru Hari Nayak( for Mayurbhanj  Chhau), presented Khamaj Pallavi and Shiva Stotram . The music was composed by K. Ramarao Patra and rhythm was by Dhaneswara Swain.
His troupe had few male dancers who performed with clarity and in Shiva Stotram displayed vigour appropriate to Tandava aspect of Lord Shiva. The dancers are well trained and showed good command over technique reflecting Deba Prasad Das gharana with recitation of sabdraswarapata for Shiva stotram.
Followed Ileana Citaristi's choreographed work Akshara. I had seen it two years ago. It is a good attempt to choreograph something 'out of box' themes like Odiya alphabets. It was a dalliance with Odiya alphabet scripted by Devdas Chhotray to the music by Lakshmikant Plait. The use of sand animation by Sudarshan Pattanaik was interesting drawing three circles and then development of the alphabets with rituals when children learn alphabets.
Interesting were sequences of showing city of Cuttack, and the appeal to children when they learn the alphabets with some story. However, the theme and choreography are more suited for children and this work of Ileana would have more appeal to children and various schools will be the right venue. Her dancers looked like kids, but they were young girls who performed creating illusion of kids.
On 10th September the programme began with Odissi music by Bijay Kumar Jena, a disciple of Kashinath Jena from the age of ten. Later he studied at Utkal Sangeet Mahavidyalaya with eminent gurus like Gopal Chandra Panda, Bhikari Charan Bal, and Ramhari Das. He was fortunate to learn from Bhubaneswar Mishra and ashtapadis of Gita Govinda from Raghunath Panigrahi.
A gifted vocalist he has performed with several Gurus, in international Odissi conferences, at Konark festival and has given solo performances for Rajarani Music Festival. He is also a researcher and a teacher, having written books like Odissi Chandrika and Odissi Gayan Paddhati. His distinct identity for his voice has placed him among young vocalists in forefront.
His rendering of raga Marwa in ek tala, the bhavang song 'Biraj badhu re', champu, 'to chitta re Chandranana,  and Janano 'He Narayana'  and concluding natyanga compositin of Upendra Bhanj ' na kar re  ramana' in Bhairavi were testimony of his proficiency.  Odissi music at the present time is facing a crisis with paucity of good vocalists.  Therefore singing by him is of more relevance of young vocalists of caliber of Bijay Kumar Jena.
Ashok Kumar Ghosal is a young choreographer, teacher and a dancer.   His group choreography 'Mun', meaning I, dwelt upon the arrogance one has within, taking examples from three yugas, when in first yuga Hiranyakashipu could not bear the supremacy of Lord Vishnu, in next yuga, Ravana was vanquished by Rama, even when Ravana tried to convince Sita by creating illusion that he had brought severed head of Rama, but it was an illusion. Ashok created a sequence showing head of Rama on a screen held by two dancers and head of Rama. In next yuga Kamsa tried to kill children of Devaki. The last was a goddess, shown by Ashok with multi-armed Goddess as Shakti, who announces that Kamsa's killer was already born and was away in Gokul. It was an effective visual.
The finale was Mun, who has all goodness and evil in him. The evil elements and the good were covered by masks which when opened reveal the real 'I'. Clever use of mask worn by him and boy dancers.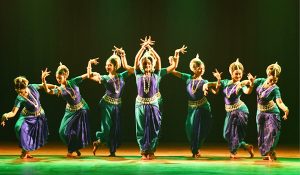 Despite his sincere efforts, the production did not succeed in terms of aesthetic presentation. Ashok's various roles like Hiranyakashipu, Ravana and Kamsa were one-dimensional. Everything was over the top and exaggerated in abhinaya by Ashok. Also he needs to take care of his figure for appearing on stage.
Durga Charan Ranbir with the script by Kedar Mishra presented Jagannath Gopinath. Comparing form of Jagannath described by poets as a dark elephant, and also intoxicated as in Janana by Salabeg 'Ahe Nila Shaila, prabalamatta varana' one who in intoxicated state swings front and back, the 'pahandi chaal', when Lord Jagannath's chariot  is being pulled during  Rath Jatra. The foot of elephant is known as 'pahandi' and the swinging of the image has comparatively that image of elephant. Kedar Mishra has compared Jagannath's form with Krishna's who is also dark. The Jhula, the swing in both cases has certain commonality. Jagannath on a swing, Krishna and Radha on a swing, the song of Jhula, and the movements were choreographed in an engaging manner by Durga Charan. The marriage of Devaki and Vasudeva being carried in a chariot was in keeping with Durga Charan's imaginative creation, the sequences of Krishna being born, in the middle of night, the jailors falling asleep, Vasudev taking Krishna in a box on his head, Serpent Shesha coming over and providing chattra, the jubilation in Nandarai's palace when Yashoda in her arms shows Krishna and other sequences were extremely well choreographed. The song 'Jhula re sang Shaymasundara' also had subtle ways of showing the inherent way elephant moves and so does Krishna, the dark one.
Durga Charan Ranbir has distinct impress of Deba Prasad Dasa's style and his choreographic works display it in good measure with arresting images. It was one of the highlights of the festival.
The finale was Namami Gange choreographed by Ratikant Mohapatra.The Sanskrit text is by Nityananda Mishra, the music by Lakshmikant Palit. The Srjan repertory has acquired finesse for its uniformity, all members of repertory looking like 'ballerinas', which looks impressive for group choreography. Even when Rtikant has narrowed 'the chowka', the entire production is in Odissi technique. On inquiry when I asked him why he has narrowed the chowka, he explained that with larger chowka, the balance is not maintained. Good enough reason.
Aditya Mahapatra's introduction in English was full of information but a bit long. The story is well known about Ganga's descent on earth to release from the sins of the sons of Sagar who had disturbed Kapil rishi when he was meditating, and the horse was stolen by Indra. Kapila rishi cursed King Sagar.  Regretting his mistake Sagar begged forgiveness of Kapila rishi who said that if Ganga descends from heaven then the sons will get mukti. Bhagirath practices penance, Ganga questions who shall receive dher if she falls from heaven, Lord Shiva was approached, and who received Ganga in his matted locks.
The present state of Ganga was dovetailed with a message in the dance. Ganga is polluted. We are responsible for all the chemicals thrown into it, the corpses, the dirt and what have you.
As a choreographer Ratikant with enough experience has displayed brilliance in some of the sequences. From the beginning the flowing Ganga is suggested by the dancers moving on their heels,sititng and moving out from wings ,and even in the end they exit suggesting that Ganga is still flowing. The prayers, the arati, the burning of corpses on ghat are choreographed with imagination. Carrying the corpse on shoulders of four dancers, and placing the corpse on pyre and setting fire with effective lighting by Deviprasad Mishra, the light designer, won rounds of applause.  The one sequence, in which the serpent poisons the waters of Ganga, was shown with dancers turning into serpent with serpentine long curvilinear movement, with great effect.
The narration was done with four dancers in four corners and the dialogue between Bhagirath and Ganga was depicted in the centre. This was followed consistently. The appearance of Shiva and dancers forming a pattern of lotus was another sequence which looked imaginative. The lighting played a role of a participating dancer and enhanced the visuals. The blue costumes, the blue light, suggesting water were perfect.
The synchronization of movements was flawless. When dialogues were rendered the mukhajabhinaya was noticed. The nritta and abhinaya were given proper importance. Sanskrit text is used more for suggestion to be in consonance with visual poetry. If one expected Ganga's descent in Jata of Lord Shiva to be shown as forceful descent, then the choreographer only suggested it instead showing it with loud music.
Often the sung text narrated what the state of Ganga is today. The dance becomes contemporary in that context.  And the production ends on the note of Ganga still flowing.
The festival has come to stay as an important landmark in Bhubaneswar. Ratikant with an army of supporters, volunteers, well wishers, disciples from Kolkata, Mumbai, even a sound engineer from Singapore assisting for sound, has shown his organizing capabilities. That being a son of great guru like Kelucharan Mohapatra, he has great responsibility to keep up the high standards he has succeeded.  And he deserves congratulations from all concerned.
Tags:
394 Views