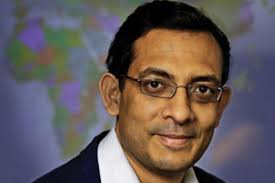 Indian-American Abhijit Vinayak Banerjee, his wife Esther Duflo and Michael Kremer of the US jointly won the 2019 Nobel Economics Prize on Monday for their experimental approach to 'alleviating global poverty'.
Born in 1961 in Kolkata, Banerjee is an Indian-American economist, who advised the Indian National Congress on the ambitious Nyutam Aay Yojana scheme ahead of 2019 general elections.
The 58-year-old attended South Point School and Presidency College, Kolkata, where in 1981 he obtained his BA in economics. Two years later, he completed his M A in Economics at the Jawaharlal Nehru University, Delhi. In 1988, he went on to obtain a Ph.D. in economics at Harvard. The subject of his doctoral thesis was "Essays in Information Economics."
Banerjee is the Ford Foundation International Professor of Economics at Massachusetts Institute of Technology.
He co-founded the Abdul Latif Jameel Poverty Action Lab (along with economists Esther Duflo and Sendhil Mullainathan). He is a research affiliate of Innovations for Poverty Action, and a member of the Consortium on Financial Systems and Poverty (UNI)
27 Views