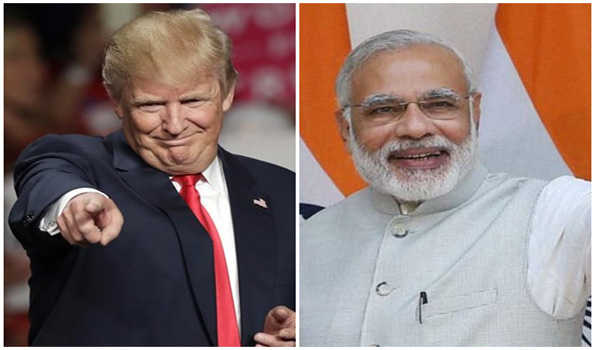 Samikhsya Bureau 
It was a die-cast event that reverberated from the soils of America's Huston, where the Prime Minister of India and the American President demonstrated their willingness to  fight against terrorism together.
Body language of both the leaders were remarkably tailor-made for the occasion in which politics was intricately linked. Nobody would deny that the American President  Trump was as much keen to embrace the Indian Prime Minister Modi as did the latter.
Amid all sounds and furry about the 'Howdy Modi' that the Indians in US were visibly ecstatic about, possibly a tryst with their leader from India specifically, , would have hardly lost sight of the fact that , the Indian prime minister went steps ahead to suddenly discover a messiah of peace in Donald Trump and did the rabble rousing ' ab ki bar, Trump sarkar'.
Has the prime minister gone there for a resuscitation act for Trump, who today remains mired in a complex mess over his foreign policies those smacks of international 'expansionism' and few ' bloodlettings' as the cost of supremacy he dreams of. Has he ever explained the cost of the war on Iran! It goes on and so does the bloody trails.
There are also more important issues that the world confronts and the two major are, climate change and the war mongering by few which might usher in a war in which the possible involvement of US and the nuclear Russia may have catastrophic fall outs. Generations to come may suffer, leaving a trail of agony never ending in its intensity.
Threat of climate change is as ominous a sign that would not wait long to cease a regime of pure oxygen sooner or later. Symptoms are so pronounced and the impacts are so easy to feel. It is all pervasive and calamitous in its enormity that the experts are warning the world, time and again.
But cap the entire gamut of problems only by threats from terror activities, an issue that the predecessors of today's Trump and his ilk had consigned to the passion of war and vengeance and a never own war on Vietnam, are not easy to forget. That was a war by America which had neither victory nor defeat but, only human sufferings. Grahame Greene's The Quiet American is often seen as a testimony to the role played by America as mother of terrorism.
To stand atop a pedestal of fame and glory, for the Indian prime minister it was not a befitting occasion to make a champion of Donald Trump. A leader who can even abandon shocks like saying halting the tracks of a natural furry by ' dropping bombs' when the last hurricane was looming on Florida.
39 Views