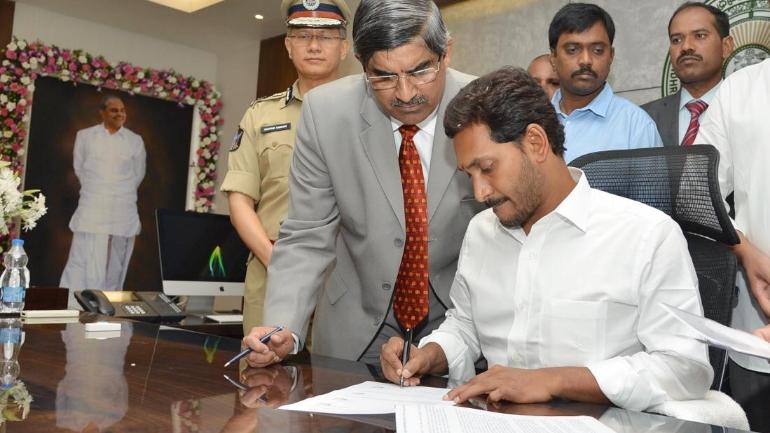 Andhra Pradesh government is all set to launch 'Village Secretariat' system as Chief Minister Y S Jagan Mohan Reddy will hand over appointment letters to selected candidates tomorrow at a programme to be held here.
In a single initiative of mass recruitment, Chief Minister Y S Jagan Mohan Reddy government has created 1,26,728 lakh jobs through 'Village Secretariats' which will come into effect from October 2 and nearly 2.8 lakh jobs through village/ward volunteer jobs which are already active.
Village and Ward Volunteers will be the face of governance and will strengthen the public delivery system of welfare schemes. Village Volunteers are dedicated people who will be voluntarily working with service motive and are not the sanctioning authority but they are only part of the delivery mechanism of welfare schemes of the government.
Under the Village Secretariat system every Village Volunteer will service 50 houses in rural areas and every Ward Volunteer will take care of 100 areas in urban areas. The mandate of Village Secretariats is to set up only to facilitate the people from getting the government welfare schemes.
During the 3,648 km padyatra Y S Jagan Mohan Reddy was told by the people about their plight on various counts from the corruption of Janmabhoomi Committee, formed by the erstwhile TDP government, to the difficulties they were facing to draw the pensions, ration, getting caste and other certificates and the like.
As a one-stop solution to their mitigate their woes, Y S Jagan Mohan Reddy has formalized Village Secretariats, which will look alike across the state and will have the same functions, facilities, duties and responsibilities.
The volunteers will deliver the monthly ration to the doorsteps of the beneficiary as many had complained that they were losing one day's wage if they were to stand in the queue at ration shops to get their monthly quota and the quality of rice.
The volunteers will also be the active link between the Village/Ward Secretariat and the 50/100 houses they are allotted and will apprise, bring awareness, given them a participatory role and see that the fruits of welfare schemes are delivered directly to the households.
The 'Social audit' is the keyword in 'Village Secretariats' which will bring accountability and credibility to system. It makes very clear that Village Secretariats are for the people, by the people and of the people. (UNI)
42 Views