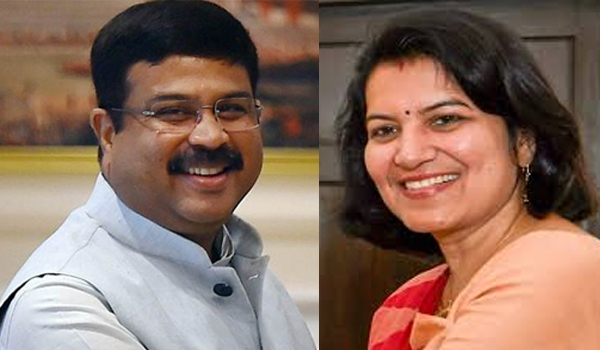 Samikhsya Bureau
One doesn't  have to travel long to see the new fissures within the Odisha unit of Bharatiya Janata Party. It is almost a next door manifestation of intents over who must be the preferred lieutenant to marshal the party in the state.
Bhubaneswar MP, Aparajita Sarangi, aims to kill two birds in one shot. It was a near gala event the other day when Sarangi launched a front named ' Ajita', a body that would play an unifying and empowering role for the women of Odisha.
New fissures !
Viewed as a counter to Biju Janata Dal initiated Mission Shakti, 'Ajita' would purportedly strive hard to garner women support in BJP's favour. And the parlance that the word 'Ajita' connotes, is seen by many as a close allusion with her  own identity, although much explicit cannot be expected.
She also launched the 'Youth For Action' as a match to BJD's Biju Yuva Bahini.
Interestingly, Sarangi happens to be the architect and head of both the fronts.
It goes without saying that, Sarangi's objectives, as political observers would have one believe, that, it is an effort at trying to achieve an edge and larger acceptance, almost risking events close to a conflict with someone in Odisha BJP as strong as Dharmendra  Pradhan, who has sweated for years to become the steward of the ship.
According to analysts, the launching of the two outfits is purely political, by implication, and Sarangi is trying to fit into the  role of a BJP- face in the State, is, on the face of it,  seemingly close to a truth.
Launching of the above two and the events were organised where the  absence of Pradhan was conspicuous and it was regarded as a conspicuous political bravery by Sarangi to assert herself to be a leader wallowing in no league but, a guild in herself.
Not without blessings from Delhi
Inviting Baijayant Panda as a guest for the launching and side lining Pradhan, is viewed as an ostensible escalation of a kind of bitterness and it could not have been possible to get into such an dare act without getting into the verge of a blessing from Delhi.
Aparajita's aims are obviously high and the pace at which she tours to many parts in Odisha and get down to the bottom strata, make her aims clear and those may slide out of Pradhan's control, at least, perceptually.
Thus, she builds up a match to the BJD and, simultaneously, she doggedly pursues an ambition to outflank a leader who, although, is ideologically not opposed to her but, both might disagree to allow a sense of agreement over, who has to lead in Odisha.
331 Views