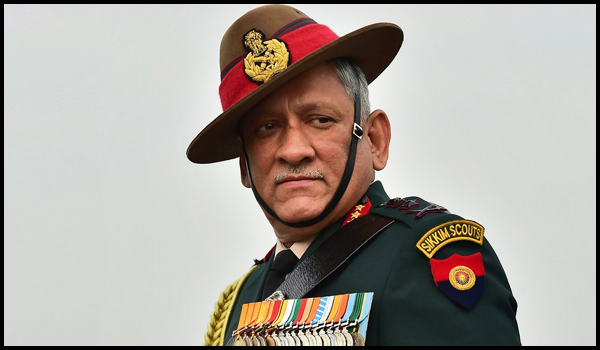 Samikhsya Bureau
What has emerged as a new phenomenon preceded by the nationalism as the big buzz in Indian politics, that a majority of retired army officers use guises to air political overtures suitable to the dispensation of the day.
And the most recent such posturing has come from none other than the Chief of the Army, Gen Bipin Rawat who suddenly got up to air a view of the ongoing protests against the CAA. The General is understood to have said that, the leaders of the day, by implication the opposition leaders, must desist from creating situations those lead to violence.
He was either correct or not,  having made such an observation  at this hour, on principle, an army officer making the statement which relates to a political parties is far from being relevant.
Why political overtures from a General!
Valour, Balakot, Pakistan sponsored terrorism and the might of the defence forces and so on would have come more appropriate than getting into the climate of unrest over the anti-CAA protests. An unrest that has spiraled out of the realms of governance and has become a topic that still awaits a clarity.
A day after, the same General was heard making claims about the secular character that prevails in the army. That did sound like glossing the obvious as the entire country knows that, Indian army is light years away from anything that is non-secular.
Indian army is a huge canopy that is weaved out of a secular fabric only and it requires no underlining at all.
Such posturing from either an in-service officer in the defence forces or a retired one, can always create a specious atmosphere which is just not required.
There must be a diktat from the top that, no soldier meddles in political narratives unless and until he or she is in politics.
243 Views