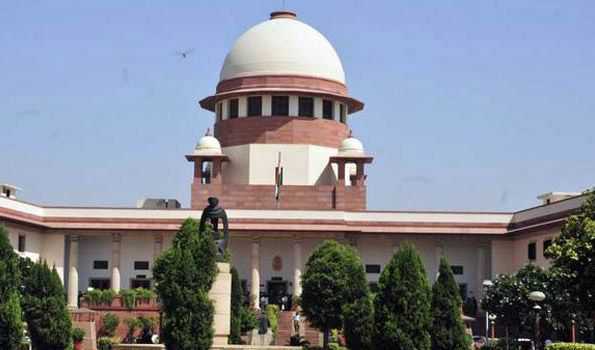 New Delhi, Oct 15 (UNI) A five-judge Constitution bench of the Supreme Court on Tuesday hinted that the arguments in the sensitive Ayodhya case may be wrapped up by tomorrow. Today was the 39th of the hearing in the politically sensitive case, in which Hindu and Muslim parties put forth their arguments and pleaded to allow their prayers. Heading the bench, Chief Justice of India Ranjan Gogoi hinted that the hearing in the case will be wrapped up likely by tomorrow.
The apex court is hearing a batch of  petitions challenging the 2010 Allahabad High Court judgement  trifurcating the disputed site at Ayodhya into three parts. The CJI said,"Today is the 39th day. Tomorrow may be the last day of hearing in the case."
Dr Rajeev Dhavan, senior lawyer appearing for Muslim side, objected to the submissions of Parasaran, and questioned him to also say how many temples are there in Ayodhya? Parasaran replied that he made the submissions about Temple and Mosque to explain the significance of the birthplace of Lord Ram.
He questioned how Muslims can now assert their title on the disputed land & Babri Masjid on the basis of an admittedly tainted dedication. CJI Gogoi asked him, "Do you accept Dr Dhavan's argument that once a mosque, always a mosque?"
Parasaran said," No, my case is once a Temple, always a Temple. I won't comment on their argument since I am not an expert." C S Vaidyanathan, senior counsel appearing for Hindu side, said that there is no evidence of possession by Muslims. There can  not be adverse possession of a property dedicated to a deity. Since August 6, the apex court is hearing the case on a day-to-day basis, after the failure of the mediation process, conducted by a high-powered three-member panel, in the Ramjanmabhoomi-Babri Masjid land dispute.
Dr Rajeev Dhavan informed the bench that the mother of another senior lawyer, Sushil Kumar Jain, who is the leading advocate for Nirmohi Akhara, has passed away. Then senior advocate, K Parasaran, commenced his arguments on behalf of Mahant Suresh Das in the suit filed by the Sunni Waqf Board.Parasaran submitted to the Supreme Court that Muslims can offer Namaz in any other mosque in Ayodhya. There are many mosques in Ayodhya which the Muslims can use for offering Namaz.
"There are around 50-60 mosques in Ayodhya alone. But for Hindus, it is the birthplace of Lord Ram. We can't change the birthplace," Parasaran submitted. Hindus are fighting for centuries for the place believed (recognised) to be the birthplace of Lord Ram, Parasaran said. "For Hindus, it's (Ayodhya) the birthplace. For Muslims it's historic mosque. All mosques are equal for Muslims. For us (Hindus), we can't change the birthplace."
Tags:
17 Views