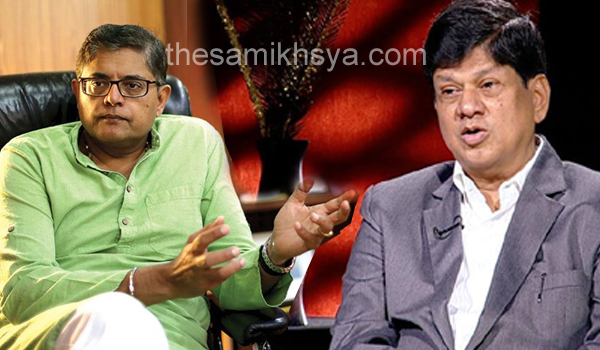 Samikhsya Bureau
Television news  channels in Odisha are a breathless lot.  With the exception of Odisha Television, to say the least, rest others are locked in a sort of struggle to claim a place among the mediocrity.
Although politics in Odisha has not been able to wriggle out of a monotonous tag where the chief minister still remains a centre of an unique selling point  or at times a punching bag for the rivals. It has little else to offer beyond that repetitiousness.
That settles the limit for the news channels to measure their news outlines, whether in favour or against the dispensation. Undisputedly, in this cluster , OTV has remained the enviable one regardless of the paled political positioning of its owner Baijayant Panda, who for last few months has maintained a calibrated distance from the centre stage for reasons best known to him.
In a way, he has succeeded in striking an equilibrium as an individual more, rather than as the owner of a huge network . Who cherishes or imposes the editorial policy of a channel is a different matter as no channel in Odisha or even at the national level can claim itself free of political compulsions .
That way, Panda owned channel makes it clear and gained the inherent strength to stride through the course transcending any comparison with an editorial policy that ostensibly underwent a marked shift post his exit from the Biju Janata Dal.
Barring a small stint of brick batting at the BJD, Panda has been back into his hovel and got to do something more than politics. Be it as a time pass or otherwise, but he, perhaps, has been wise enough to read that, in the existing climate that prevails in the BJP, it would be thankless a job to indulge in only anti-Naveen insinuations.
And he also must have had the realization that, being in the BJP he can no longer correct the political wrongs he had committed and it is not a party where he can aspire for a relevance which he had as a BJD leader. Then it was Naveen and now it is Modi, a kind of cross-current no one can afford to remain afloat to build a cult of his or her own.
While, quite in contrast, the owner of an equally huge media network , Soumya Ranjan Patnaik, presently a BJD MLA, a  man who has strode through several alien gullies of politics, has not been able to find his place in politics that can behoove to his seniority and stature. What is perceptible is that, Patnaik somehow suffers from a claustrophobic syndrome in the party he is now.
Neither he has the comfort of running together with the lot in the party nor he finds any comfort coming up trump in Odisha politics as a man close to Naveen Patnaik once it appeared to be.
As the chief (Editor) of his newspaper The Sambad and the TV news channel Kanak TV, he has more to deliver as an institution builder, than playing political footsie that has hardly earned him any good dividend in the past.
Both the leaders, Baijayant Panda and Soumya Ranjan Patnaik had remained consequential in their own way. It is a different matter that Panda's overtures offered an opportunity to the BJD to go for course correction but in the case of Patnaik, his unflinching  ambitions to remain over-focused can be an irritant in the future for him.
78 Views