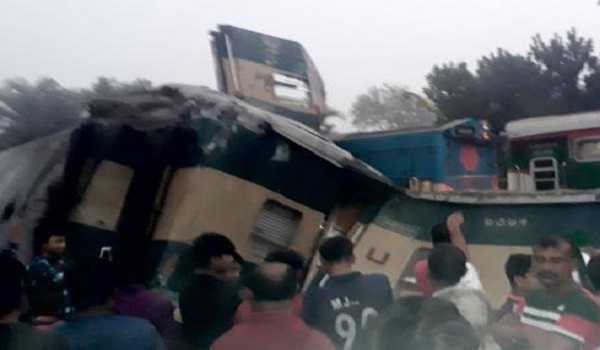 Dhaka, Nov 12 (UNI) At least 16 people were killed and 40 others injured when two trains collided in Bangladesh's Brahmanbaria district, early on Tuesday.
The accident occurred at 0230 hrs when the Udayan Express and Turna Nishita trains approached on the same track from opposite directions in Brahmanbaria district, Dhaka Tribune said in a report.
Local government administrator Hayat Ud Dowlah Khan said at least 40 injured were being treated in hospitals, but news agency UNB said the number of the injured would be more than 100.
Railway official in the area Delwar Hossain said two of the coaches were badly damaged. Fire service rescuers were pulling bodies from the mangled coaches and using body bags to send the bodies to hospital morgues.
Prime Minister Sheikh Hasina expressed shock and sorrow at the injuries and loss of lives and directed officials and the public to provide support to the victims.
The government has ordered an investigation.
24 Views