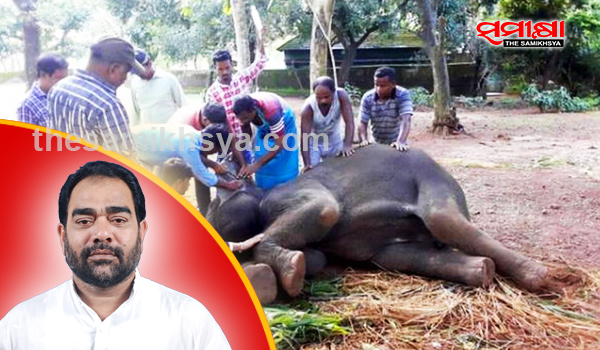 Samikhsya Bureau
It required nothing more than an effortless ease for Odisha's forest and environment minister V K Arukh to say that, about 119 wild elephants have died due to electrocution, a dreaded menace born out of a lackadaisical department of the Energy sector, in last ten years. Whose fault is that, is a question that stands starring at all.
Except a slew of blames between the ministry overseeing the wildlife wing and the Energy department, one really gets anything else to know. And it has been going on and on, to become a graveyard of thoughts where the heritage gets buried every other day.
The scenario is, in fact, much more scary than it is portrayed to be. More than 570 elephants died under circumstances like electrocution, poaching and accidents coupled with natural deaths   in last 20 years.
The minister concerned must be aware of the reality but it is a different matter that these politicians love to cherry pick conservative statistics to ward off the public barb.
However, the reality stands stark naked before all that, the wild elephants are on the run and none can inject the wisdom into these politicians. Nor can one instil the zeal into the officials to wriggle out of their state of stupor.
Many have virtually perished and many are at the threshold of a peril, and the chances of replenishing the loss of wildlife species are also remote.
Reportedly, the government has set up a body called 'The State Board for Wildlife', and a high profile one, mind you, which fast reduces to become like an abandoned lamppost. One of its members was quoted saying that, there has been ' no meeting of the board members in last two years '.
It should be a war footing exercise at restoring the lost habitats for the elephants and very little is being done in that direction, opines an wildlife activist, Biswajit Mohanty, who heads Wildlife  Society of Odisha.
Mohanty's fatigue is manifested in his worries as do of many other wildlife lovers, who have nearly given up on the issue as a reluctant official wing tries to create an opaque wall of statistical obfuscation by sporting excuses only.
The tragedies like deaths of elephants in the wild brought before the people, sadly, stay within the media highlights but there is hardly anything goes at the bottom.
Whether it is efforts at restoration of habitats or halt poaching or action against the erring energy officials , the government has always a cut a sorry figure.
And it seems, it is already too late  for  the lost nature to restore itself. It is always the living instinct of an animal that postulates the safety of a habitat, which is withering fast.
34 Views