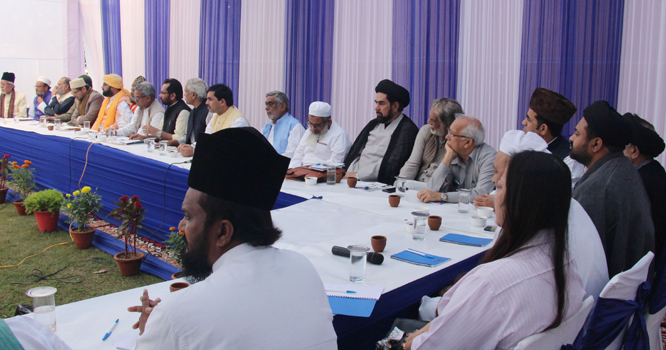 New Delhi, Nov 5 (UNI) The BJP and the RSS leaders have started interacting with key Muslim clerics and influential minority community leaders such as Mahmood Madani of Jamiat Ulema-e-Hind and try to build up an atmosphere of peace and tranquility ahead of the Ayodhya verdict.
Sources said as part of initial stage, Rashtriya Swayamsevak Sangh leader Krishna Gopal, former BJP general secretary Ram Lal and Union Minority Affairs Minister Mukhtar Abbas Naqvi have started the process and a meeting was held on Tuesday.
Among others, former MP Shahid Siddiqui, Shia cleric Kalbe Jawad and All India Muslim Personal Law Board member Kamal Faruqui have been approached.
"First meeting of some core group leaders was held here on Tuesday. This is to ensure that there is overall peace and calm in the country and especially in vulnerable areas of the country when the verdict on Ram Janmabhoomi Babri Masjid dispute can come," the source said. The verdict is expected before November 17 – the day when the Chief Justice Ranjan Gogoi retires.
Prominent filmmaker Muzaffar Ali too has been approached, sources said. The leaders from both the communities would appeal to people to remain calm and cautious of elements those who could trigger controversies and disturb the fabric of unity.
The five-judge Constitution bench of the Supreme Court, headed by Chief Justice Ranjan Gogoi on October 16 reserved its judgment, after a marathon 40-day hearing. The apex court was hearing the case from August 6 this year on a day-to-day basis after the mediation failed.
Making a veiled attack on those who tried to steal limelight on the eve of the verdict in 2010, Prime Minister Narendra Modi has said during 'Mann Ki Baat' : "You could jog your memory a bit and reflect about the atmosphere then. Various kinds of people took to the arena. Various interest groups were playing games to take advantage of that situation".
However, Prime Minister added that the delivery of the court's decision generated a pleasant and surprising change of mood in the country.
The Allahabad High Court had ordered division of the 2.77 acres of the disputed land at Ayodhya into three equal parts between Ram Lalla, Sunni Waqf Board and Nirmohi Akhara.
94 Views