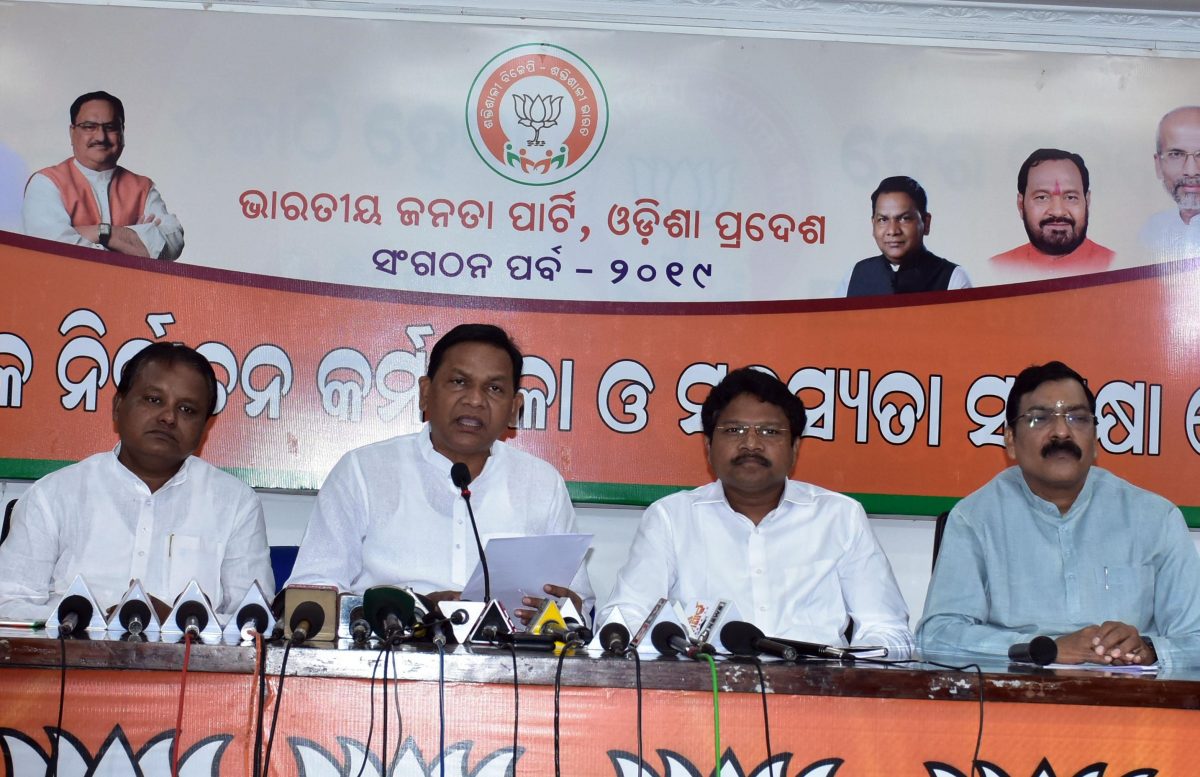 The Samikhsya Bureau
Bhubaneswar, Nov 2 :-BJP today threatened to paralyse the functioning of the state Assembly demanding  CBI probe into the rape and  murder of Panchayat Executive Officer (PEO) Smitarani Biswal. Leader of Opposition Pradipta Kumar Nayak told news persons here that   the assembly  will be paralysed if the government did not recommend for a CBI probe before the commencement of the winter session of the  House. He alleged that since the district police and the administration are influencing theinvestigation process, the husband and the young daughter of  deceased Smitarani will not get justice.
Hence, the case  be handed over CBI for an impartial inquiry, Mr, Nayak said  adding that the  BJP will oppose if the government ordered  for a crime branch inquiry and tried to suppress the matter. The Leader of Opposition said a delegation of the MLAs of the party will soon apprise the Union Home Minister and the National Mahila Commission about the incident and urged  them to intervene in the matter.
The BJP leader also demanded the government to immediately dismiss the Jajpur District uperintendent of Police and the Chairperson of the state Mahila Commission. He said it is surprising that the SP without conducting any inquiry and listening to the husband and the family members of Smitarani ,made  public statement on the  character  of the deceased  relying  the statement of the accused who has been arrested and  sent to jail.
Mr Nayak said even though the Mahila Commission Chairpersons had visited the spot but she had  did not meet the family members of Smitarani. The  state government, he demanded  should  provide 24hour police security to the family members of Smitarani as they are  pancked and living under threat.The BJP leader said as per the reports of the local office, the guest house where Smitarani  was murdered has been evicted on March 27 last year.The District Collector and the Revenue department  should  now clarify the veracity of the report.
Smitarani Biswal was found hanging in the  guest house at Baligari under Dharmasala Block of the Jajpur district on October 16 last in a mysterious condition. Later, Police arrested Rupesh Bhadra, the husband of the Haridspur Panchyat in connection with the incident. The BJP alleged that Smitarani was gang raped and murdered and demanded CBI inquiry into the case.The party also observed 12-hour Jajpur bandh and  held demonstration in front of the Raj Bjawan and the Mahila Commission office in support of its demand .
The party had also filed FIRs against the  Jajpur District SP for  for assassinating the character of the deceased and demanded strong action against him.The Congress has also been demanding  CBI inquiry into the case.
49 Views