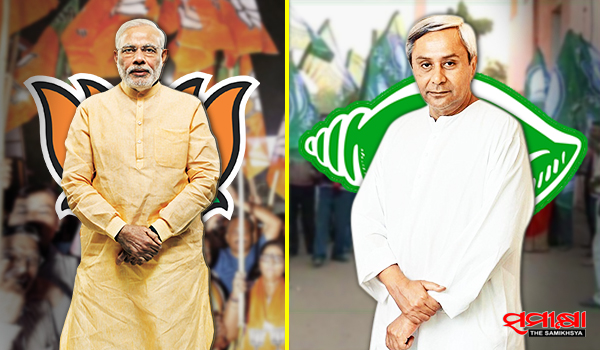 Samikhsya Bureau
The ruling Biju Janata Dal seems to be facing its toughest challenge so far in six Lok Sabha constituencies and 42 assembly constituencies under them that will go to polls in the third phase on April 23. The Lok Sabha constituencies are Puri, Bhubaneswar, Cuttack, Dhenkanal, Sambalpur and Keonjhar.
As feedback from the ground indicates, the first two phases comprising nine Lok Sabha and 63 assembly seats were relatively easy for the BJD as compared to the six Lok Sabha and 42 assembly seats. In most Lok Sabha seats there was a 'Modi factor' among the youth, though it was most visible in Kalahandi. However, as the polling date got nearer, the BJD's well-oiled election machinery worked hard with a view to win over the voters.
However, in the assembly segments under the six Lok Sabha seats slated to go to polls in the third phase, a binary has developed in which many voters have said that they would vote for the BJD (read Naveen Patnaik) in assembly and for BJP (read Narendra Modi) in Lok Sabha.
The spilt voting narrative (BJD in assembly, BJP in Lok Sabha) is undoubtedly a a backhanded compliment for Patnaik, who seems to be popular in spite of being in power for the past 19 years. But it has also created hardship for the BJD.
The "vote for BJP in Lok Sabha" narrative has its base in Pulwama and Balakot attacks and Modi's supposed strongman image when it comes to national security. Though the Pulmama-Balakot profile of the BJP did not cut much ice in the Hindi heartland states like Uttar Pradesh, it has surprisingly worked in Odisha.
That is because the BJD, a regional party, did not feel the need to create a counter-narrative. Such a narrative could have been countered by the Congress, but it was not in a position to do so.
National Congress leaders have left the state Congress to fend for itself. While Modi, BJP president Amit Shah and several Union ministers have visited Odisha, the national Congress leaders have mostly ignored the state.
Of late, however, the BJD realised its mistake and is trying to take corrective measures to influence voters to vote for its Lok Sabha candidates. Patnaik, who is on a whirlwind tour of the state, has stepped up his attacks on the BJP as well as Modi, and is making appeals to people to send more BJD Lok Sabha MPs to Parliament.
Interestingly, while the BJP has the advantage of a 'Modi wave' as far as Lok Sabha is concerned, it is short of cadres at the ground level to convert that advantage to votes.
352 Views