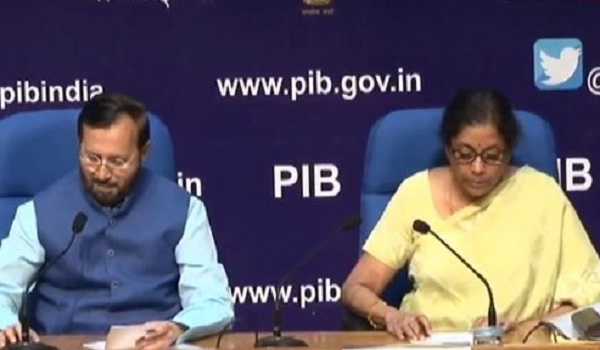 In a milestone decision, the Cabinet on Wednesday decided to ban the production, transportation, storage and selling of E-Cigarettes across the country and approved the promulgation of an Ordinance in this regard.
Under the ordinance, offenders will be sent to jail.
Briefing reporters in Delhi about the decsion taken by the union Cabinet, chaired by Prime Minister Narendra Modi, Finance Minister Nirmala Sitharaman said, "The Cabinet has decided to ban the E-cigarettes. It means the production, manufacturing, import/export, transport, sale, distribution, storage and advertising related to e-cigarettes are banned."
She also informed that the government will bring a bill in this regard in the next session of Parliament.
Giving details, Health and Family Welfare Secretary Preeti Sudan said, "The punishment proposed is imprisonment up to 1 year or a fine of up to Rs 1 lakh, or both for the first offence and imprisonment of 3 years or a fine up to Rs 5 lakhs or both, for subsequent offence. E-hookahs are also included."
The Cabinet meeting also gave a bonanza to railway employees by announcing to pay a 78-day salary as bonus, benefitting around 11 lakh employees.
Union Minister Prakash Javadekar said, "For 11 lakh railway employees, this government has consistently for last 6 years, being giving record bonus, equivalent to the wage of 78 days. This year also, 11,52,000 employees will get 78 days wage as bonus. This is the reward for productivity."
On a question of arrest of former Jammu and Kashmir Chief Minister Farooq Abdullah, Javadekar said, "It is true that he was arrested day before yesterday. It proved that he was not under arrest since last 35 days." (UNI)
21 Views