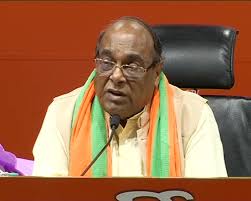 Samikhsya Bureau  
Once a very senior leader of the Biju Janata Dal and who was subsequently consumed by over-estimation of self ultimately discovered himself in a condition which was hardly enviable. A shocking error in his political foresight or acumen landed him at the threshold of the Bharatiya Janata Party where, till recent times, he failed to lay his hands onto the latch even to open the door let alone, define his position as a political leader.
Now, he is heard lamenting the same old symphony of lonliness and a listlessness being edged out to become a kind of pariah for the BJP where nobody comes calling for his same old rants he had been found espousing when in the BJD to weigh on the leadership of Naveen Patnaik.
Why that political over-ride by which he had challenged to shake  Patnaik's two decade old citadel from its root and get 'Lotus' bloom in the saline waters of Pradeep etc.
There cannot be two opinions that, Damodar Rout who always had espoused his political allegiance to a certain school of thought and ideals, came under a threat of political extinction which, in fact, led him to get torn between politics and personal interest. That  was when he tactfully played the trick of getting his son admitted to the BJD and chose a roller coaster ride in the BJP knowing well either he can ever redefine his political relevance in the BJP nor the party can pander to his whims of covering himself with the glory of a game changer.
Now, seeing his own doom in politics, being where he is, Rout has nearly chosen the path of poliitical 'sanyas' as is evident from the very recent utterances before the media.
Rout had always a penchant, whether in the BJD or the BJP, for headlines for which he, like many other leaders in India, indulge in statements those either stoke sentiments of some or become a topic that embarrasses the party he belonged to.
Leaders in the BJP, unlike Rout, have demonstrated poise and patience by taking defeat with lot of sport. For example, an old timer like K.V Singh Deo, who at many occasions in the past had held high positions in the state party, even after losing the recent Assembly election from Patnagarh, from where he had a record winning streak for tenures, took the defeat somewhat like this " perhaps there was some lacking on my part or may be, people of that area were vying for a change in face".
That can be well described as a rare admission from a leader of KV's stature who never indulge in narratives like blaming the opponent of playing fouls.
Rout may be right in taking a back seat at a juncture when his political validity is on the rapid wane. He should be content with what politics has given him and should not shirk from an obligation towards his political bête noire, Naveen Patnaik ,who has sheltered his son Sambit Routray and has given him a political rooting. Indirectly telling Rout that ' you should now stop spitting at the sky'.
46 Views