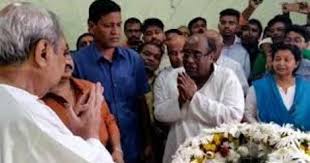 Samikhsya Bureau
It is time Damodar Rout hung his gloves and say goodbye to politics. His exit from the Bharatiya Janata Party is neither going to make any difference to the latter nor will it have any good bearing for the Biju Janata Dal which he had left while standing on a heaps of abuses against Naveen Patnaik.
Not only political irrelevance but a lingering sedentary life style has adverse outcomes for Rout who depended more on undulating his political road rather than mending the rough patches.
Loquacity has remained one of the undoing factors for this erstwhile BJD veteran that had paved his exit from the BJD and his subsequent entry into the BJP was a mere compassion from the BJP which had shepherded many leaders from the BJD like Rout into its camp and underscored vengeance at BJD more than the necessity of those leaders. Now all of them Like Rout, are seen as liabilities.
BJP is a cadre based party where individual charisma of leaders, barring a few exceptions, do not enjoy the blessing from Nagpur. Rout must have had that realisation of that ground reality beforehand but it was his political frustration that kept him wander around with the blinkers on.
Penchant for headlines has remained an old habit of Rout and, more often than not,  by taking a stance inimical to the party that has given him a lot. That is a realisation a garrulous Rout chose to ignore and now, in his days of sedentary transit, he should try to hog the limelight for something better than what used to rely upon.
Rout is gainer in nutshell
Whether he had been left cornered in the saffron camp or was seen as an obsolete coin but, before taking on the BJD, he had very cleverly paved the way for his son, Sambit Routrays's into the BJD.
Fate at last smiled on him the day Naveen Patnaik visited his residence to pay condolences after his wife's death. The moment was opportune for Rout to cash in on his emotions that struck the chord when Patnaik left his residence with a face writ with empathy.
Patnaik, in fact, hit two targets in one shot. Admission of Sambit was a moral victory for the BJD supremo and, of course,  a grimace at other leaders who had deserted the BJD for greener pastures in the BJP.
None of them can afford a chest thumping and say that, they are happy in the BJP.
60 Views