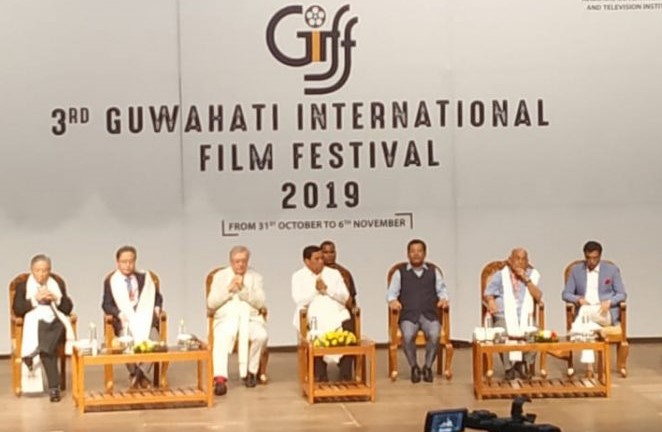 By Sushmita Goswami
Guwahati, Nov 3 (UNI) International experienced filmmakers from East Europe Roma Zachemba and Ewa Bukowska today asserted that the handling of themes by men and women filmmakers is different, with women filmmakers still being a minority figure.
"The voice of the women is depreciated. Women have to fight for their place. Of course, the situation is changing and it is for the better," Ewa said, speaking to UNI at an end of an Open Forum at the ongoing 3rd Guwahati International Film Festival (GIFF) here.
Differing from the general stand that men and women filmmakers have no difference, the actor-director said, "Men and women are different. Women can give birth, it is biology. Biology makes them different. Their viewpoints are bound to be different."
She pointed that women are generally perceived as being weak, but it is changing in the 21st century and her own women characters have been strong women. "Men wants to see/ portray women as very weak. But we are not weak, we give birth. Can you imagine the efforts in it? I think, now in the 21st century, we are stronger than men in Europe," she added.
Referring to her award-winning 2017 film '53 Wars', which was also screened at the GIFF, Ewa said, "Many might say that my protagonist is a victim. But my character is not that, it is a complicated character and a strong one. My stories are not about victims, its about strong women."
She also added that film festivals have been helping women filmmakers in showcasing their works and appreciated that the GIFF has a good number of films made by women. Earlier participating in the Open Forum, Ewa had rued that 'movie industry is still dominated by men' as she has seen in her experiences in different film festivals.
Moderating the discussion, Roma Zachemba, an experienced director of numerous short and feature films, music videos and commercials, also maintained that the handling of themes will be different for a male filmmaker from that of a woman. Roma said, "The point of view will be different when a women filmmaker handles a theme from that of a male filmmaker."
She also pointed that earlier 90% of the films were made by the men, but more women filmmakers are emerging now. Actor-director Heikki Kujanpa, participating in the Open Forum, said the 'MeToo Movement' had been the 'most revolutionary movement' in films in last few decades, and it has changed perceptions for many for the better.
Referring to the participation of women filmmakers post-MeToo, he said, "It helped the organizers to wake up and realize the women were missing. The things have changed for the better." Film critic Manoj Barpujari added that film festivals have provided a bigger platform to all filmmakers, including the women, to showcase their work and connect more.
69 Views