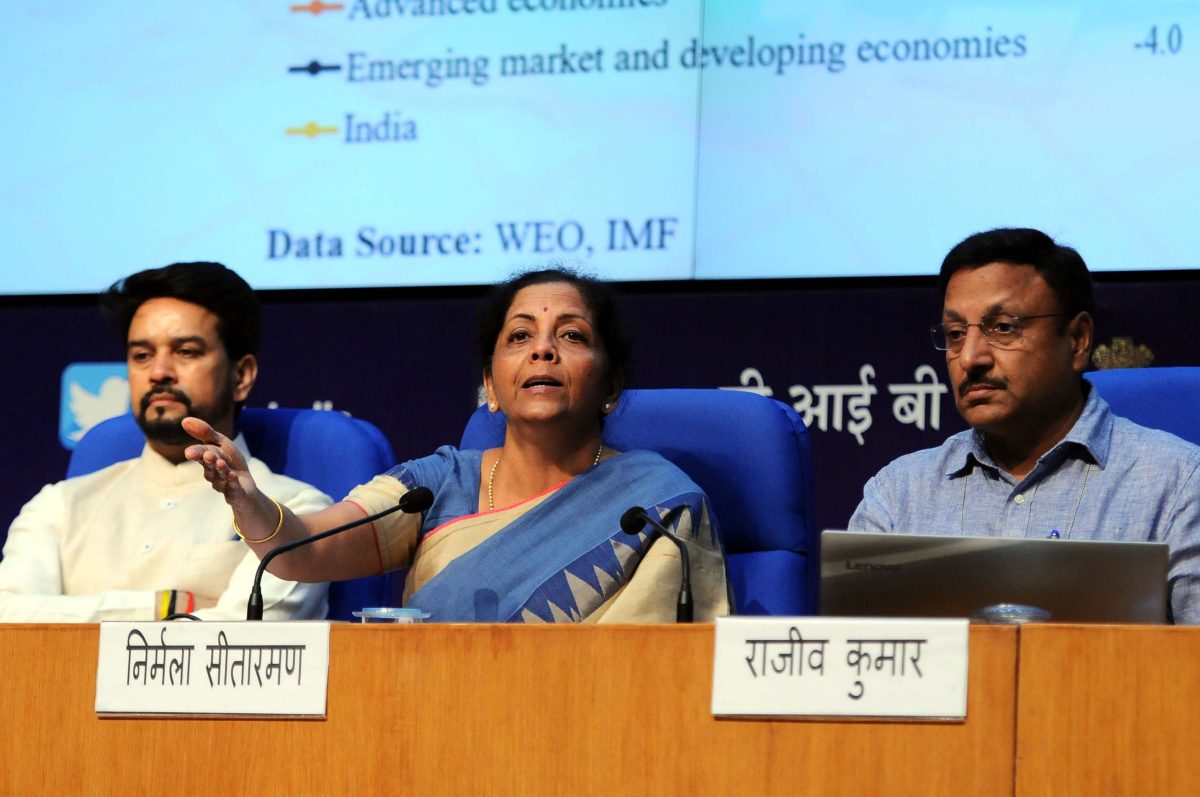 New Delhi, Aug 23 (UNI) Stressing that reform is on top of the Narendra Modi-led government's agenda, Union Finance Minister Nirmala Sitharaman on Friday announced a slew of measures in an attempt to give a fillip to the economy. Among the key measures that were announced include relief from the enhanced surcharge on Long term and Short term Capital Gains, CSR violations not to be treated as a criminal offence, and the withdrawal of Angel tax provisions for startups and their investors.
Making several announcements to boost Indian economy in a 32-slide presentation, she said with an aim to end harassment of taxpayers, all tax notices will be issued from a centralised system. She said banks will make home and auto loans cheaper. Addressing a press conference here, Ms Sitharaman also announced that the government has rolled back enhanced surcharge on foreign portfolio investors (FPIs), restoring pre-budget position.
In a major relief to the MSME sector facing liquidity shortage, the government on Friday announced that all their pending GST refunds will be paid within 30 days. Also, in future, all GST refunds of MSMEs will be paid within 60 days from the date of application, said Ms Sitharaman. Highlighting the measures to boost economic growth, Ms Sitharaman said India is maintaining the reform momentum and GDP growth continues high above other countries, including the US and China.
"GDP growth of India continues to be high above other countries. Consumption growth is down in not just emerging but also advanced economies. Volatile situation has developed in global trade," Ms Sitharaman said. The government has kept reform at the top of the agenda since 2014, she said. "We are maintaining the reform momentum, be it regarding self certification or  labour reforms or environmental clearance," she maintained.
Ms Sitharaman stated the current projected global GDP growth is of about 3.2 per cent and probably is going to be even revised downwards. "The notion is being disproved that this government is inclined to go through prosecution, we are more in favour of penalty than prosecution where possible; we have withdrawn 14,000 prosecutions under Companies Act," the minister said. About measures to bring simplification in taxation, Ms Sitharaman said during taxation, notices, summons, orders by the income tax authorities will be issued by a centralised system.
"There will be faceless scrutiny from 'Vijay Dashmi' this year, which will mean that there shall not be even that one odd over-enthusiastic officer who might go and sit and talk about things, which may be construed as harassment," she said. The government is releasing Rs 70,000 crore upfront for recapitalisation of state-run banks, the Finance Minister said. Banks will make home, auto loans cheaper, she assured the industry.
Banks agreed to launch repo rate-linked products, she said, adding that this will cause reduced EMIs for housing and vehicle loans and other retail loans. Angel Tax provisions for start-ups have been removed, the minister said. CSR violations will not to be treated as criminal offence, and instead would be civil liability, she stressed. Trade promotion body Federation of Indian Export Organisations (FIEO) welcomed the slew of initiatives to propel economy.
Welcoming the slew of measures announced by the Finance Minister, FIEO president Sharad Kumar Saraf said that announcements made by the government is aimed at investment stimulus, demand stimulus, ease of doing business and recognition to wealth creators. Besides the roll back of the higher tax on foreign investors and the release of funds to recapitalise public sector banks will go a long-way in easing liquidity and further giving a much needed boost to the economy in such challenging times, added Mr Saraf.
117 Views