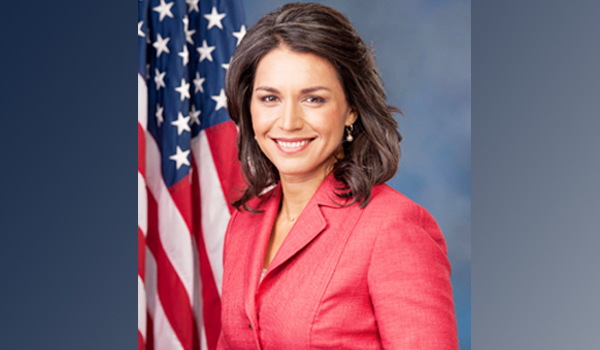 Samikhsya Bureau
Seen in the context of politics, the decision by the US Congress Presidential candidate Tulsi Gabbard , not to be at the Huston rally, a mega event that President Trump plans to make political capital out of, is not for nothing.
It is a different matter that the soft-spoken Tulsi has dismissed the news about her being away from the Huston event as 'misinformed' but even political analysts in the US see a lot of reason behind her excuses.
Tulsi Gabbard, who had started as a soldier in the combat zone in Hawaii Army National Guard, later became the youngest to get elected into the Hawaii House of Representatives and subsequently her trajectory in US politics  went up to become the member of the US Democratic Party  in 2012. From then on Tulsi never looked back.
Tulsi has made no secret of her selective diabolic attack on Donald Trump and the most recent being her fierce salvos fired at Trump for the latter's subservient attitude shown at Saudi Arabian Kingdom through a tweet that the young presidential candidate described as 'disgraceful'.
It is no secret that Trump's quest behind the Huston rally where he is to roll-out the red carpet for the Indian Prime Minister Narendra Modi is very very political. With his recent position in politics in India and abroad, Trump knows that, none can be a better man to sway the Indian diaspora in the US in Trump's favour.
A realisation that an 'intelligent' and seasoned politician like Tulsi cannot fail to have that, Modi reaches Huston for a very mutually political aggrandisement purpose that would help Trump, perhaps, as never before. An unique opportunity for Trump to woo the Indian diaspora, which presumably, may, otherwise prove damaging for Tulsi Gabbard, if Modi palys the bagpiper role in Huston.
She has made it very clear in her recent stands that, she hates US 'interventionism ' in Venezuela, Iraq, Libya and Syria under the Trump dispensation.
Although in a statement Tulsi has dubbed India as the largest democracy and wished to meet Modi sometimes, can never brook a situation where Trump, as her political adversary, would like to trumpet his achievements on the run up to the campaign for the next president ship of America.
96 Views