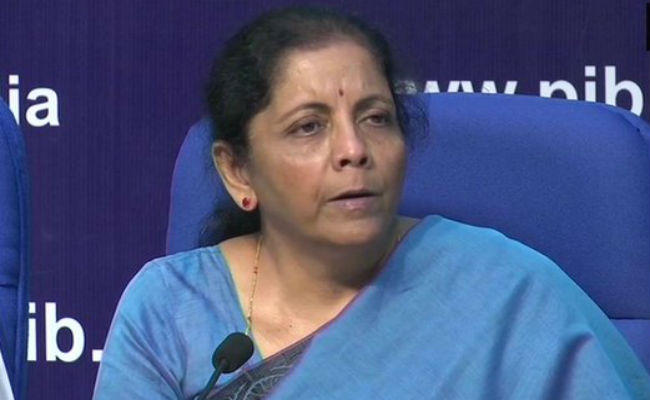 Continuing its attack on the Narendra Modi Government on the state of the Indian economy, the Congress on Tuesday made a veiled reference to the article written by husband of Finance Minister Nirmala Sitharaman and noted economist Parakala Prabhakar on the Indian economy.
Referring to the article, the Congress blamed the Narendra Modi government for the current economic crisis and said "there is an atmosphere of insecurity in the country"
Addressing mediapersons at AICC headquarters, Congress spokesperson Manish Tewari, while quoting the article written by Prabhakar, published on Monday, said that "it was 'perhaps the most incisive signal of the very deep economic crisis",
"There is anxiety all over about the economic slowdown in the country. While the government is still in denial mode, data flowing uninterruptedly into the public domain show that sector after sector is staring at a seriously challenging situation",  Tewari quoted from the article, while avoiding to mention that Prabhakar is  Sitharaman's husband.
"They have consistently refused to listened to any sane or sensible advice. They have undermined institutions- two Governors of the RBI had to leave in the most ignominious circumstances. The credibility and integrity of India's economic data today is suspect. There for under those circumstances there is an atmosphere of insecurity in the country", alleged  Tewari.
The Congress spokesperson stated that the government should listened to the sane economic advice, given by people who understand the economy and not create a spectre of fear, terror and intimidation.
"We have serious apprehension that we are not going to be able to come out of these economic crisis, because the government has absolutely no clue about how the economy has to be handled", he charged.
He alleged that the attempt to project India as a majoritarian nation has completely and absolutely crippled the economy and added that "social discord and economic development cannot go hand in hand".Taking on the government,   Tewari alleged that the current state of the economy is a man made tragedy.
"NDA-BJP govenment has manufactured current economic crisis through inaction and policies pursued over past five years", he added.
Referring to the letter written by Nobel Prize winner Abhijit Banerjee to Prime Minister, Mr Tiwari said, "Mr Banerjee who won the Economic Nobel prize yesterday, had written a letter to the Prime Minister along with 108 other economists in March, accusing that the Govt is fudging economic figures".
He also referred to former Finance Minister Arun Jaitley, without mention his name, and said, "former late Finance Minister had written a blog calling Abhijit Banerjee a compulsive contrarian while the world chose to give him a Nobel prize".
The Congress leader said that today the fundamentals of Indian economy are in danger, "be it savings, expenditure, credit off-take or investments."
"People keep their money in banks thinking it is safe. When banks do scams like the PMC bank, people lose faith. This is what has happened in the case of PMC Bank. A small investor named Sanjay Gulati had Rs 90 lakh deposited in PMC. He had lost his job in Jet Airways. When he came to know that he could not withdraw more than Rs 10000- 20000, he had a heart attack and died",  Tewari said. (UNI)
22 Views