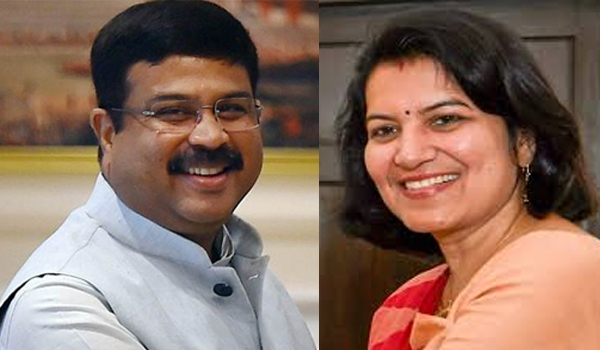 Samikhsya Bureau
Ambition is like a dormant inferno that cannot be kept suspended for long. That is one deadly cast of mind which matters most for the politicians of the day also. Somehow to hog the limelight for a reason that is wrong or right. Which can be construed as an attitudinal problem.
What has transpired between the Bhubaneswar MP, Aparajita Sarangi and the district BJP president Harekrushna Khuntia, if it is true, as alleged by the latter, then the signs show that, within the BJP there are noticeable fissures regardless of the show of a cadre based party wedded to discipline.
And what is important that, whether before the polls or after that, the saffron unit in Bhubaneswar is still deprived of a face whom the party people can look up to as a head worth reckoning.
Although, there is no need to elaborate here that, Dharmendra Pradhan, the union minister, who has so far played the skipper roll from the pavillion and now, as it appears, for some reason best known to him, he maintains a cool as regards the trivial discomforts within.
Coming back to the spat  between Khuntia and Sarangi, the issue has boiled down to a regional issue where cadres within the party would have people believe that, Sarangi has kick-started a self-aggrandisement politics and Khuntia alleged that he was made a victim by Sarangi supporters who had assaulted him physically with severe injuries.
Sarangi has reportedly denied any role behind the assault on Khuntia and supported a probe.
What cannot be lost sight of in Odisha BJP that, there is a perceptional shade of mild bitterness brewing within the party, where, the cadres feel that, Sarangi, who had missed the bus to a ministerial berth at the Centre, has enough reasons to locate a space for herself in the state where she can matter as a leader of consequence.
Besides her constituency, Bhubaneswar, it is said that, she keeps trying for an outreach in the state for a notional impression as a front liner here.
Which has obviously given an impression that, there is a dormant slugfest in the offing that can divide the state unit, is what some party insiders can be heard whispering.
Politics seriously postulated humility and a people's friendly countenance as a basis for acceptance which many in the politics of the day lack. And Sarangi is no exception.
She, according to observers, makes, inadvertently or otherwise,  an admixture of aggression and humility, if that can be described so.
The circle inimical to her style of functioning sees some signs of pure ambition uncoupled from rest other leaders in the state. In politics of the day, if such steps at surrendering to one's ambition, desire and impulse pays dividends is doubtful.
81 Views