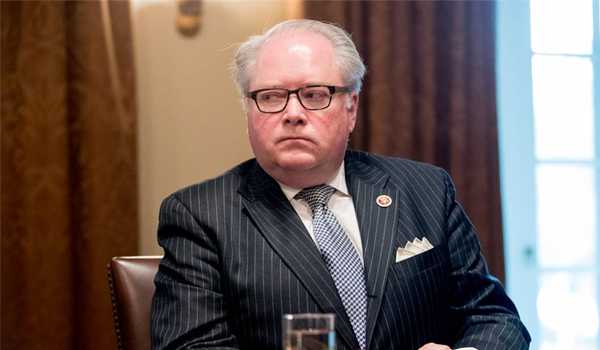 Samikhsya Bureau
Kashimir imbroglio has at last spilled out into the doors of Washington. And who is George Holding to hazard a guess on the Kashmir situation during his visit and issue a certificate to the Indian Prime Minister Narendra Modi for the latter's step in J & K ?
Firstly, the visit by the members from the MEP to Kashmir clearly points at the intention of the European lobby, obviously indirectly spearheaded by the US prez  Donald Trump, that the issue is no more limited to be an internal matter of India.
It is still fresh in the minds of many, as how Trump had created a ripple in the diplomatic circle by volunteering to mediate between India and Pakistan. Which in fact was preceded by an alleged 'lie' that PM Modi had sought Trump's mediation in Kashmir . The MEA has dismissed it but was still short of calling Trump a lier on that issue.
Secondly, the Howdy Modi extravaganza in Huston came as a damage repair exercise from both the sides where the contentious issue was never allowed to come up . But the event went miles to say that the Indian prime minister was a changed man at that occasion, pouring tons of goodwill for Trump, as if, the latter was a messiah of peace.
Then what followed was the sudden news about the visit by a team of the Members of the European Parliament(MEP) and the purpose behind, ostensibly, to asses as what happens after abrogation of Article 370, inviting adverse reportage by international media. And that, as it did,  coming on the background of an animus between the Indian government and the opposition at home over restrictions to visit Kashmir by many Indian leaders raised the heckles, and has now become an issue for the opposition to rue.
At that juncture the statement from the Congressman George Holding in Washington, that singularly appropriates the Indian government's action through abrogation, was almost a foregone conclusion. Politics at home apart, the very intention of the team appeared as a foreclosure report that Holding presented in the House.
Was it necessary for the Indian dispensation to allow an alien team to play a Santa and say what the Indian diplomacy has long since maintained as an internal issue come-what-may. Be that as it may, the decision to allow the MEP team was surely a diplomatic flaw.
51 Views