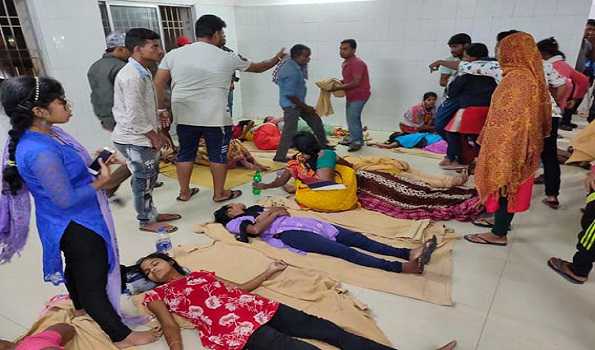 Balasore , Nov 14 (UNI) Panic gripped Khantapara area after over 100 workers fell sick and were admitted in hospital due to Chlorine gas leak in a prawn-processing plant here last night. All the affected workers, mostly women and minor children, were rushed to the nearest hospital and later to the district headquarter hospital for treatment. The district administration claimed that all the workers admitted in the hospital are stable . The administration has ordered a probe in to the incident
The plant has been sealed and at least three officials of the company have been detained by the police . Although the exact reason of the accident is yet to be ascertained, the preliminary report suggested that overcharging of gas led to disproportion, resulting in the leakage of gas, Sub-Collector of Balasore Nilu Mohapara said. According to sources, some of the workers of this seafood processing plant owned by Falcon Marine experienced irritation following gas leak, soon other workers also complained of similar feeling .
They were rushed to CHC Khntapara immediately but inadequate beds and doctor, paramedics could hardly cater to the emergency as some of them were in unconscious state. About 15 workers were in critical condition when they were shifted to the District Headquarter Hospital.The district collector, SP and other senior officials including the district Labour officer and Pollution control board have rushed to the mishap site.
Inspector general of police (Eastern range), Diptesh Pattnaik, who also visited the plant site as well as hospital said " the scientific team would be arriving for a probe and as per findings appropriate action would be taken. A case has been registered and 7 officials of the plant are detained in this connection,"  Pattnaik said
In the meantime, the Director General of Police has ordered an inquiry by the forensic team and Labour minister Sushant Singh visited Balasore to take stock of the situation . Singh said action would be taken as per law against the guilty.
47 Views