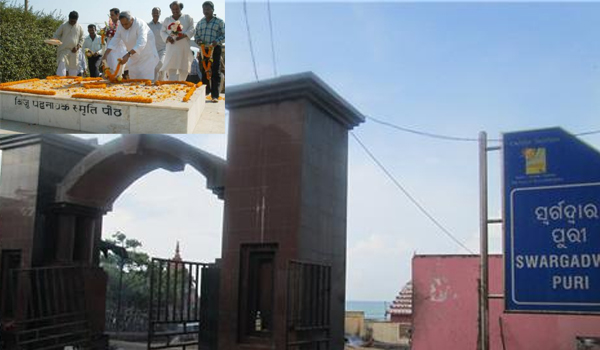 Samikhsya Bureau
Regardless of whatever interpretations from the people in general and politicians in particular, the decision by the chief minister to remove the memorial of his father late Biju Patnaik, built within the premises of Swargadwar (door to heaven) in Puri is worth reckoning.
Given the sentiments those drive the psyche of every Indian progeny, chief minister Naveen Patnaik deserves an applause when efforts are on by the dispensation under him to re-create  this sacred venue and make it a modern crematorium.
It requires a mention that, the Swargadwar, since its inception has been weathering the onslaughts of encroachment and has ultimately been reduced to less than 90 per cent of its designated area.
The district administration had earmarked an area of 16 acres to design this crematorium but it all happened right under the nose of the administration when the 16 acres slowly got consumed by the encroachers where they built the castles of greed.
Row of lodgings and small commercial buildings have been raised all around reducing the 16 acres to a mere half acres today.
How can a place of such importance could be allowed to be encroached by people s no less shocking. And this is not a development of today but the encroachers had been eating into this area for several years, under various political dispensations merit a probe. Which, under no way cam be possible without some sort of connivance between the encroachers and the administration.
When the concept of the Swargadwar came, besides  16 acres of land facing the sea, sources in Puri said that, a sum of Rs.94 crore was also sanctioned for the work. There must be records that where that Rs.94 cr has gone!
For the present, the renovation or reconstruction of the crematorium got a sanction of Rs.5 crore so that people can get a modern crematorium.
If century old Maths and other structures within the 75 metre limit of the Puri temple could be razed to earth, why not demolish the structures standing tall all around Swargadwar!
253 Views