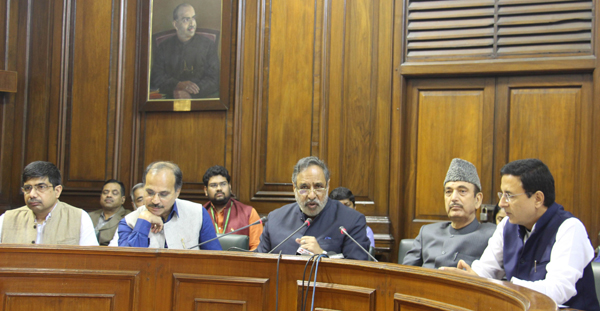 New Delhi, Nov 20 (UNI) Describing the Electoral Bonds scheme of the Government as 'a a modus operandi to receive thousands of crores from "Big Business Houses" through secret donations', the Congress on Wednesday demanded that the Government disclose details of the scheme in both the Houses of Parliament and institute an impartial probe into the matter.
Addressing a joint press conference here, Leader of the Opposition in the Rajya Sabha Ghulam Nabi Azad, Deputy leader of the Congress in the Rajya Sabha Anand Sharma, Leader of the Congress in the Lok Sabha Adhir Ranjan Chaudhry and AICC media incharge Randeep Surjewala said, "the RTI replies have revealed that the Electoral bonds scheme was a means to extort money from big businessmen. The RTI replies revealed that the reservations expressed on the scheme by the Reserve Bank of India and the Election Commission of India were overruled by the PMO."
​Electoral Bonds are issued under "Electoral Bond Scheme, 2018". The first tranche of bonds were issued in March 2018 worth Rs 222 crores. 95 per cent of it went to BJP. ​Finance Ministry wanted to issue the Electoral Bonds before Karnataka Assembly Elections of May 2018. Accordingly, a note was put up on April 3, 2018 for amending the Electoral Bond Scheme for issuing the bonds before the Legislative Assembly election. The Secretary (Economic Affairs), S C Garg rejected the proposed amendment .
The suggestion was, however, rejected. ​Prime Minister Narendra Modi, then directed to violate the Electoral Bond Scheme and open the same prior to Karnataka elections of May 2018. Finance Ministry accordingly noted and recorded this direction of PMO on April 11, 2018 and put up the file again.
Bonds were accordingly issued in April 2018, before the Karnataka assembly elections. Obviously, it was done to enable the BJP to garner funds from the business houses.
The role and responsibility of the Prime Minister is thus writ large. The Congress demands that the Government disclose the details of the Electoral bonds scheme in both the houses of Parliament. An impartial probe should also be instituted in the matter.''
16 Views