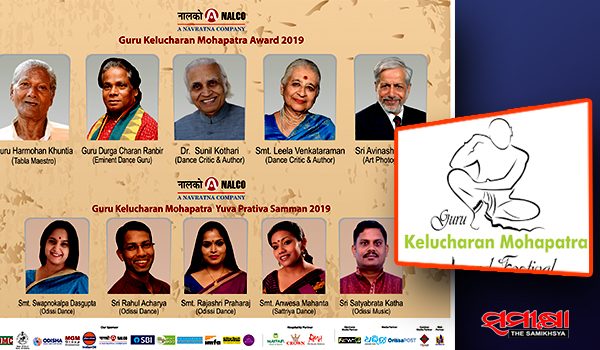 Samikhsya Bureau
In the memory of legendary Odishi artist, Guru Kelucharan Mohapatra, Srjan have been conducting the Guru Kelucharan Mohapatra Award Festival 2019. Established by Guru Kelucharan Mohapatra Srjan celebrating its 25 th anniversary this year. this silver jubilee edition of the  festival is scheduled to be held from 5th to 11th of September 2019 at Rabindra Mandap, Bhubaneswar. Srjan gives recognition upon individuals for their outstanding contribution to the fields of Dance, Music, Cinema, and Theatre by conferring Guru Kelucharan Mohapatra awards every year.
This year Srjan is going to felicitate renowned dance critics and art historians Dr. Sunil Kothari and Smt. Leela Venkataraman, veteran  photographer for Indian classical dance and music  Abinash Pasricha, Tabla maestro Guru Harmohan Khuntia and veteran Odissi dancer and composer Guru Durga Charan Ranbir with Guru Kelucharan Mohapatra Award 2019. Each awardee will get a sum of rupees one Lakh and the award money is being sponsored by public sector company Nalco. in addition to it five young artistes, Rajashree Praharaj, Rahul Acharya and  Swapnakolpa Dasgupta for Odissi  dance, Anwesha Mahanta for Sattriya dance of Assam  and Satyabrata Katha for Odissi music are going to receive Guru Kelucharan Mohapatra Yuva Prativa Samman 2019. Each of them will be awarded with a cash prize of rupees twenty five thousands.
Famous Ghazal and Bhajan artist Anup Jalota with many other celebrated artists are going to perform in this 7 day long event. Srjan, the host institute  will present  'Namami Gange', a specially choreographed dance ballet for the concluding day of the festival.
Tags:
173 Views