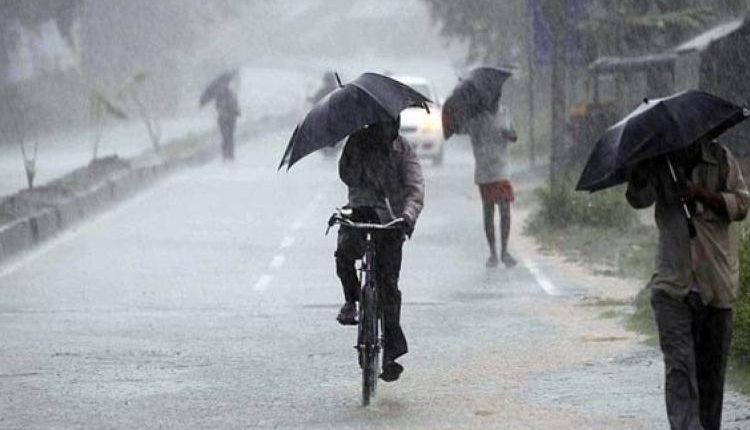 Samikhsya Bureau
Bhubaneswar-Heavy and continuous  rains since Wednesday  triggered by a well marked low pressure  over west central bay of Bengal, crippled life in Odisha . Odisha  government today declared closure of all schools and Anganwadi centres for two days in eight districts lashed  by incessant rains but asked the teachers and staff to be present at the institutes for emergency.
East Coast Railway(ECoR) sources said heavy rains badly affected the train services  as many trains, both Express and Passenger, are  running  behind schedule. Heavy to very heavy rains experienced between Palasa and Vizianagaram. Sources said water from city municipal drains and nearby areas entered the Vizayanagaram station yards and tracks got submerged.
Signaling  posts also got affected at many stations due to heavy water flow all night long. Water was being cleared by the railway staff at Vizayanagaram and staff were on high alert  whole night  yesterday at  bridges and other sensitive location to monitor the safe movement of the trains.
ECoR CPRO  Jyoti Mishra said  as  of  now two trains- Visakhapatanam-Brahmapur and Brahmapur- Visakhapatanam have been cancelled . The  Bhubaneswar- Visakhapatanam Intercity Express will be terminated at Srikakakulum which will run  empty up to Visakhapatanam .
The Visakhapatanam  to Bhubaneswar Intercity  Express has been  cancelled today., Mr.Mishra said.    Met sources said Krushnaprasad in Puri district and Chikti in Ganjam district received the  highest rainfall of above 200 mm during the last 24 hours. Krushnaprasad block in Puri received the  highest rainfall of 249.4 mm rainfall followed by  203 mm rainfall in Chikti block in  Ganjam district.
As many as 48 blocks  in the state received  rainfall  between 100 mm to 200 mm rainfall. The  district collectors of  Cuttack, Ganjam, Gajapati,Bhadrak, Dhenkanal,Puri ,Khordha  and Jajpur  have  declared closure of the all the schools and Anganbadi centres due to the heavy rainfall.
Several low lying areas in the state  reported inundated  and  vehicular movement has been  severely affected  putting  the commuters  into lot of hardship . Report reaching  the state capital  said  rain waters  flowing  one to two feet  above the  road  at several   places in southern Odisha  disrupting the  communication  badly. Special Relief  Commissioner(SRC) office sources ruled out any possibility of  floods  due to the rains in the state.
However, the  district collectors  have been alerted to take all possible measures  to meet the  situation arising out of  the heavy rains. If necessary, the collectors were asked to evacuate  the people  from the  low lying areas and  water logging areas to safer places.
Official sources said all the 30 districts in the state received  rain fall during the last 24 hours. As many as five  districts received rainfall above 100 MM while  eight districts   reported  rain fall between 40 mm to 100 mm rainfall and eleven districts received  rainfall between 10 mm to 40 mm in the past  24  hours.
Met sources said  heavy rain  will lash the state  for the next 48 hours.
16 Views