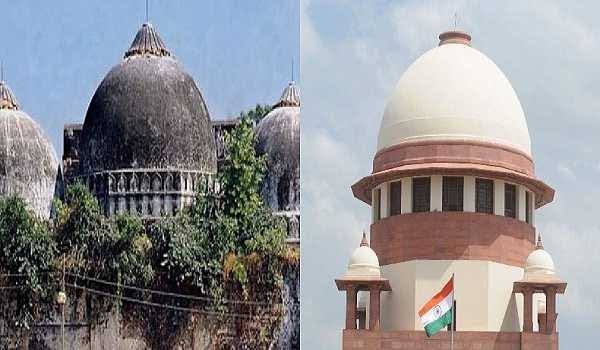 Updated by Samikhsya Bureau
New Delhi, Nov 9 (UNI) In a landmark judgement in the Ram Janmabhoomi-Babri Masjid case,  the Supreme court on Saturday said the disputed land in Ayodhya will be given to a government-run trust for the building of a temple while an alternative plot will be given to the Sunni Waqf Board for a mosque at a "suitable, prominent place in Ayodhya".
The unanimous verdict was rendered by a five-judge Constitution Bench headed by Chief Justice of India Ranjan Gogoi and comprising Justices SA Bobde, DY Chandrachud, Ashok Bhushan and S Abdul Nazeer.
The highlights are:
*Unanimous judgment on Ayodhya by five judges.
*The full judgment runs into 906 pages.
*Central government within 3-4 months shall form a scheme for setting up of a trust and shall make necessary arrangement for management of trust and construction of temple.
*A suitable plot of land measuring five acres was directed to be handed over to Sunni Waqf Board either by the Central Government or the State Government.
*Nirmohi Akhara suit barred by limitation and dismissed. Sunni Wakf Board within limitation. Ramlalla Virajman suit is within the limitation period.
*SC grants entire 2.77 acres of disputed land in Ayodhya to deity Ram Lalla.
*SC holds that Nirmohi Akhara is not the Shavaite. Also says Ramjanmabhoomi is not a juristic person.
*Can't reject ASI report as conjectural.
* ASI report leads to conclusion that Babri mosque was not constructed on vacant land.
*There was underlying structure and it was not Islamic in nature. Artefacts recovered have a distinct non-Islamic nature.
*Supreme Court upholds the view that there was a 12th-century structure.
*Faith is a matter of individual belief?No evidence has come on record to discount the belief of Hindus in the place.
*The judges note that there were places of birth identified in close proximity to the disputed land.
*SC accepts the HC view that idols were placed inside the central dome of Babri Masjid on December 22-23, 1949 night.
*The existence of Sita Rasoi, Ram Chabutra and Bhandar Grih are the testimony of the religious fact of the place.
*Title cannot be established on ground of faith, belief; they are kind of indicator for deciding dispute
*Sunni Waqf Board at liberty to construct a Mosque at the allotted land.
*The Bench held that the destruction of the Mosque was against the rule of law.
*There was clear evidence to show that Hindus worshipped in the outer courtyard of the disputed site.
*As regards the inner courtyard, there was no evidence by Muslims to show exclusive possession by them prior to 1857.
*The possession of the inner and outer courtyards of the disputed structure has been given to the trust.
*The scheme should provide for construction of a temple at the disputed site
*Historical accounts indicate the belief of Hindus that Ayodhya was the birthplace of Lord Ram, says court.
*ASI report has left answered whether the Hindu temple was demolished to construct the mosque.
*The fate and belief of Hindus that Lord Rama was born in Ayodhya is undisputed, said CJI Gogoi
*Suit 3 by Nirmohi Akhara dismissed.
*Disputed site is one composite whole.
*Sunni Central Waqf Board failed to meet requirements.
*Hindus claimed exclusive rights at outer courtyards.
*Relief to be moulded as per Constitutional justice.
*As far as Inner courtyard was concerned, there was no abandonment or cessation of mosque.
*Possession of the inner and outer courtyard shall be handed over to the trust.
* SC Dismisses SLP by Shia Central Wakf Board.
Tags:
89 Views