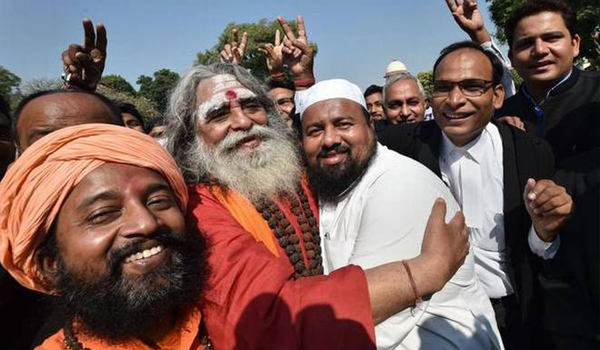 President of Akhil Bharatiya Hindu Mahasabha`s Bihar unit Abhimanyu Kumar Singh has filed a petition in a local court against All India Majlis-e-Ittehad-ul-Muslimeen (AIMIM) chief and MP from Hyderabad Mohammed Asaduddin Owaisi for making statement against Supreme Court`s verdict on Ram Janambhoomi land dispute.
Singh in his petition filed in the court of chief judicial magistrate Noor Sultana last evening levelled several allegations including his objection to the apex court`s verdict on Ayodhya issue against  Owaisi.
In the petition, it has been said that MP   Owaisi had hurt religious sentiments of people by making statements in public meetings and also in media against the Supreme Court`s verdict on Ram temple delivered on November 9.
The petitioner said,   Owaisi had created hatred between two communities in the country and neighbouring nation by making objectionable comments against the Supreme Court`s ruling disturbing public peace and also making strong attempt to increase enmity between both communities.
He said, MP`s objection to the Supreme Court`s order was also well within the definition of treason adding his statements had hurt sentiments of Hindus of India.
State Hindu Mahasabha president had registered petition against  Owaisi under 124A, 225 A, 505 A B (2) sections of IPC and 66A section of IT Act.
Meanwhile, CJM has transferred the petition to the special judicial officer cum additional chief judicial magistrate (ACJM) Anurag Kumar Tripathi of the special court constituted for hearing cases pending against MPs and MLAs.
The court posted the matter for next hearing on December 4.
Tags:
13 Views