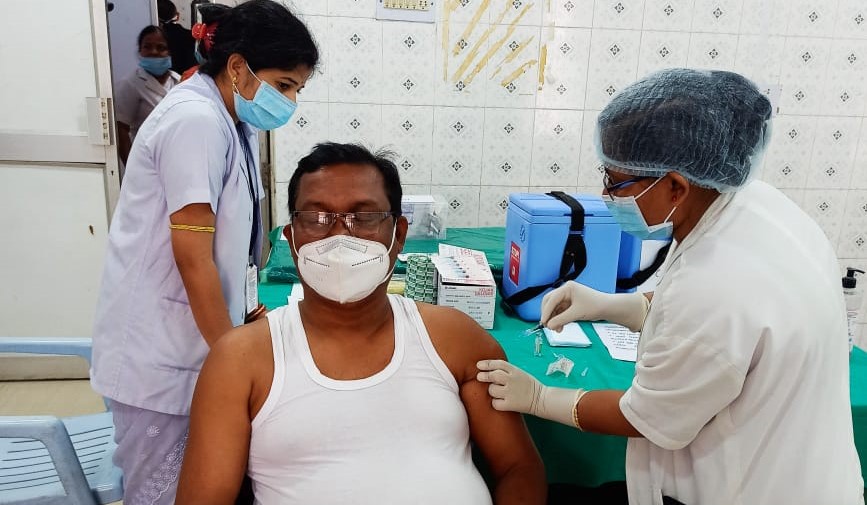 New Delhi: India has crossed yet another milestone in the COVID vaccination drive with the total vaccination crossing the 75 crore mark today. The cumulative figure stands at 75 crore 10 lakh 41 thousand and 391. Union Health Ministry said, more than 56 crore 95 lakh vaccine doses have been administered as first dose and over 18 crore 14 lakh vaccine doses given as second doses.
The Ministry said that till 5.30 PM today, more than 67 lakh vaccine doses have been administered to the beneficiaries. It said, the country has also become home to more than 99 per cent Healthcare workers and Frontline workers who have been vaccinated with one shot of COVID Vaccine.
On this achievement, Union Health Minister Mansukh Mandaviya said that with the mantra of Sabka Saath, Sabka Prayas, the world's largest vaccination drive is continuously creating new dimensions. He said, in the 75th year of independence, the country has crossed the 75 crore mark in covid vaccination coverage.
On this landmark achievement, Information and Broadcasting Minister Anurag Thakur congratulated the people of the country for this achievement and said that it is a remarkable milestone of 75 crore covid vaccinations as India marks its 75th year of independence.
He said, vaccination plays a vital role in the country's fight against Covid-19. Mr Thakur said, many political parties tried to spread rumours about the efficacy of two indigenous vaccines, but the people of the country are aware about it and come forward to get themselves vaccinated. Mr Thakur appealed to the people come out in large number for vaccination.
Regional Director, WHO South- East Asia, Dr poonam Khetrapal Singh said that WHO congratulates India for scaling up Covid-19 vaccination at an unprecedented pace. In a tweet, She said, while it took 85 days to administer first 100 million doses, India reached 750 million doses from 650 million in just 13 days.
India began administration of COVID-19 vaccines on 16 January 2021. As of 11 September 2021, India has administered over 743 million doses overall, including first and second doses of the currently-approved vaccines.
216 Views