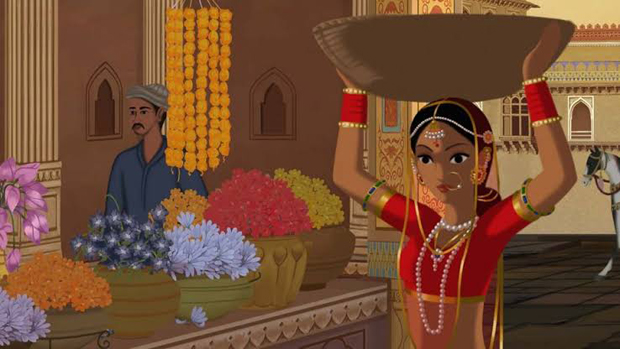 Marrakech, Dec 3: Gitanjali Rao's animation film, 'Bombay Rose', is on a dream run only two months after becoming the first Indian animated film ever to open the Critics' Week parallel section of the Venice film festival.
The film's spectacular showing on the international festival circuit is raising hopes of a new bright future for Indian animation.
At the ongoing 18th Marrakech International Film Festival, 'Bombay Rose' is part of the festival's prestigious competition section. The film, the only animated film in competition here, is in contention for the Golden Star, the top prize of the Marrakech festival, a major film festival in Africa and the Middle East. "We are on the cusp of a big change for Indian animation," says Soumitra Ranade, the animation producer of 'Bombay Rose', who presented the film at the Marrakech festival yesterday. "We expect a shake up in the Indian animation industry," adds Ranade.
Ranade, an alumnus of the Film and Television Institute of India (FTII), should know. He is the co-founder of Paperboat Animation Studios, which digitally painted 'Bombay Rose' frame by frame. Ranade also co-wrote and co-produced 'Goopy Gawaayia Bagha Bajaayia', the first Indian animated film to be screened at the Toronto International Film Festival. Inspired by Satyajit Ray's 1969 fantasy comedy 'Goopi Gyne Baagha Byne', the film is directed by Shilpa Ranade. 'Bombay Rose' was also part of the Toronto festival line-up this year.
"Indian animation is a young art, which formally began only in the '60s when the Films Division invited Disney animator Clair Weeks to head its cartoon department," says Ranade, who directed this year's remake of the 1980 cult comedy 'Albert Pinto Ko Gussa Kyun Aata Hai'. Among Weeks' assistants at the Films Division was Ram Mohan, dubbed the 'father of Indian animation'.
"We had a more than one-century-old tradition in cinema, but the arrival of Clair Weeks meant that everything about Indian animation became Disney-oriented," explains Ranade. "After that two to three generations of Indian animators were replicating the Disney style," he adds. "Things have changed for the better only in the last one decade when animators like Shilpa Ranade and Gitanjali Rao have broken away and created a unique style which is Indian in aesthetics," says Ranade.
40 Views