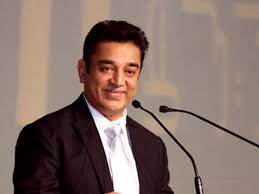 Taking a dig at Union Home Minister Amit Shah's Hindi unifying India remarks, actor-politician and Makkal Needhi Maiam (MNM) Founder Kamal Haasan on Monday said all languages should be respected and said no attempts shouild be made to make an inclusive India into an exclusive one.
Responding to  Amit Shah's One India One Language remark during Hindi Diwas, Kamal in a sententious two minute video, said India was an "excellent feast" and imposition of Hindi would result to "nausea".
Touching upon the history of the country and the promises enshrined in the onstitution to the people, who were having various languagesas their mother tongue, the actor said "India was formed as a result of the unification of many empires by many kings who relinquished their thrones.
"But the one thing that many people across states refused to give up was the ways of their language and culture", he added. "The unity in diversity was a promise that we made when we made India into a Republic", he recalled, saying "now, no Shah, Sultan or Samrat must renege on that promise".
"We respect all languages, but our mother language will always be Tamil",
he said. Referring to the massive pro-Jallikattu protests in January 2007 at Marina,
in which lakhs and lakhs of people participated, Kamal said it was just a
protest and the battle for Tamil language will be much bigger than that.
"India or Tamil Nadu does not need or deserve such a protest", he said in
the video.
Kamal said that most Indians don't sing the national anthem in their own
language but for the Bengalis.
"The reason we are happy to do so is because the author of those verses
embraced and acknowledged the importance of the languages and cultures
that make India and accorded them their due respect", the MNM Founder said.
The reason was poet Rabindranath Tagore, who wrote the National Anthem
gave due respect to all languages and culture within the Anthem. "And hence,
it became our Anthem," he said.
The video ends with Kamal saying that India was a feast of variety and that
forcing a certain thing (imposing Hindi) would be detrimental and unwelcome.
"We are capable of seeing unity in diversity. Long live Tamil, long live the Tamil
people and long live India", he added.  (UNI)
21 Views