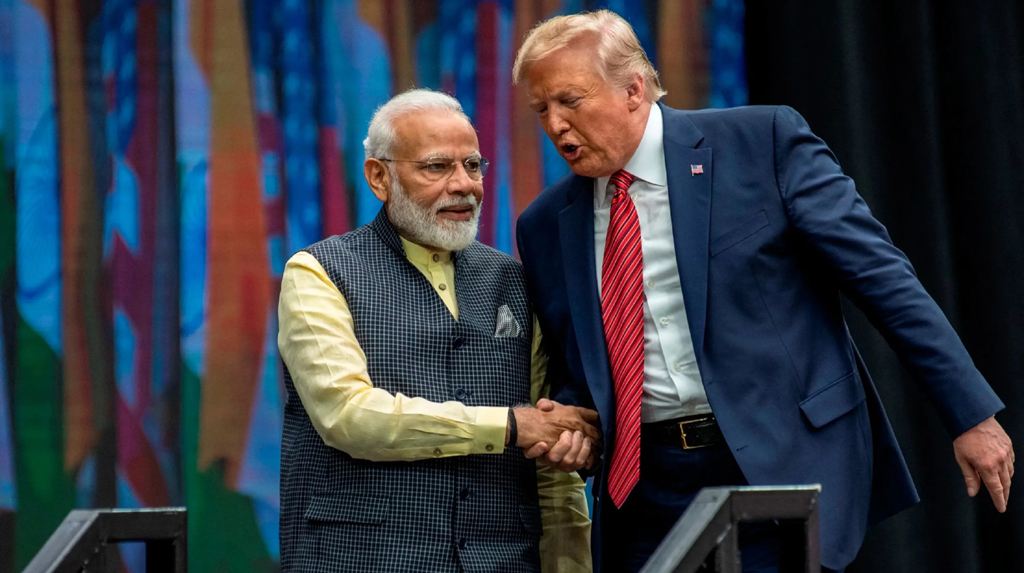 There is no much difference in what appears to be between Donald Trump's  'Howdy Mody' and the payback extravaganza from Narendra Modi through the 'Kem Chho, Trump'. It cannot be seen as anything other than politics that has been crafted for mutual benefits.
A political jamboree at a cost of crores of rupees that the Indians are to cough up through the nose.
When Modi visited Huston, it was all about an Indian Diaspora that the Indian PM was looking forward to which indeed yielded the results. Sailing on a rocking vessel post the impeachment  threat hanging over, Trump was looking for a solace that Modi sounded from Huston saying 'Abki bar, Trump Sarkar'.
India out, US in!
An unusual bit of diplomatic recourse that has been made a new way of boosting someones's sagging popularity.
This time, it is back in India where a mammoth crowd will be seeing the drama of role reversal when both leaders would try getting over a lakh people rising up with a thunderous applause to praise a man, who, on last Monday, has removed India from the list of Developing countries for certain reasons notwithstanding the economic set backs on the export front.
Anyway, all that are going to be buried under a mega show of hugs and homilies resonating from the Sardar Patel Stadium . The pomposity of Huston is to get outflanked by over one lakh people and one who is more ecstatic over the ostentation is Trump himself, who badly needs this resuscitation before he goes to face the polls in US.
Taking a stroll at the Sabarmati premise, the American president shall be transported back to the days of  Mahatma Gandhi and the BJP shall be at ease to play up the two legacies, one at the Stadium and the other at Sabarmati.
Happening towards the end of February, the Trump extravaganza will go a long way to smoothen the barbs that the BJP faced after the Delhi poll debacle.
224 Views