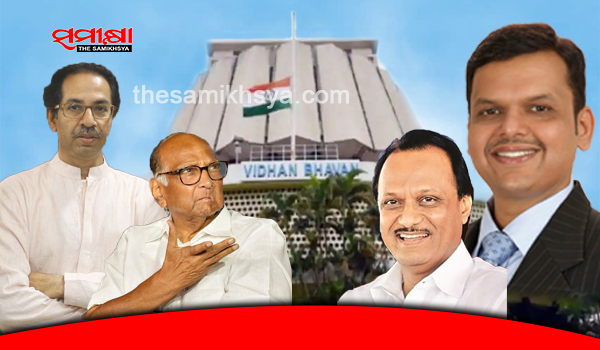 Samikhsya Bureau
It is not dramatic twist of events but an enactment of an absurd drama in Maharashtra politics that proves, that politics is no place for any iconoclast but of people who allow butchering of ideologies in broad day light.
Bharatiya Janata Party which had gone hammer and tongue demeaning the Shiv Sena for compromising its entire political and cultural ideals by joining hands with Nationalist Congress Party, branding the latter as a cesspool of corruption, has suddenly joined hands with NCP's splinter faction led by Ajit Pawar.
It is the same Ajit Pawar, whom the BJP had dragged to the gallows some time back for corruption charges . By congratulating Debendra Fdnavis for his second innings as the CM of Maharashtra, both the Prime Minister Narendra Modi and Amit Shah have clearly demonstrated that no political party under the sun can be more hypocritical than the ones we have in the country.
'Na khaoonga, na khane doonga' (neither will eat nor allow anyone to eat) was the slogan by Modi who meant least tolerance towards any corruption. How do the BJP define Ajit Pawar?
The long drawn drama that was going on since October 24 in Maharashtra has one lesson for all that, in politics there is no meaning of a touchstone, nor the theatrics or discourses by any politician has any serious undertone.
A sword was hanging on Ajit Pawar's head since quite sometime. So NCP has obviously raised doubts about Pawar being brought under a mental coercion by the BJP to bow down before the pressures to part ways with his uncle Sharad Pawar and stand with the BJP in forming the government.
Now, neither the BJP can anymore afford to rebuke the NCP or the Congress nor it can claim its name in the annals of Indian politics as the only party wedded to discipline .
Every ten minutes there is twist in sight and nobody knows for how long the new dispensation can be on the victory stand.
.
97 Views