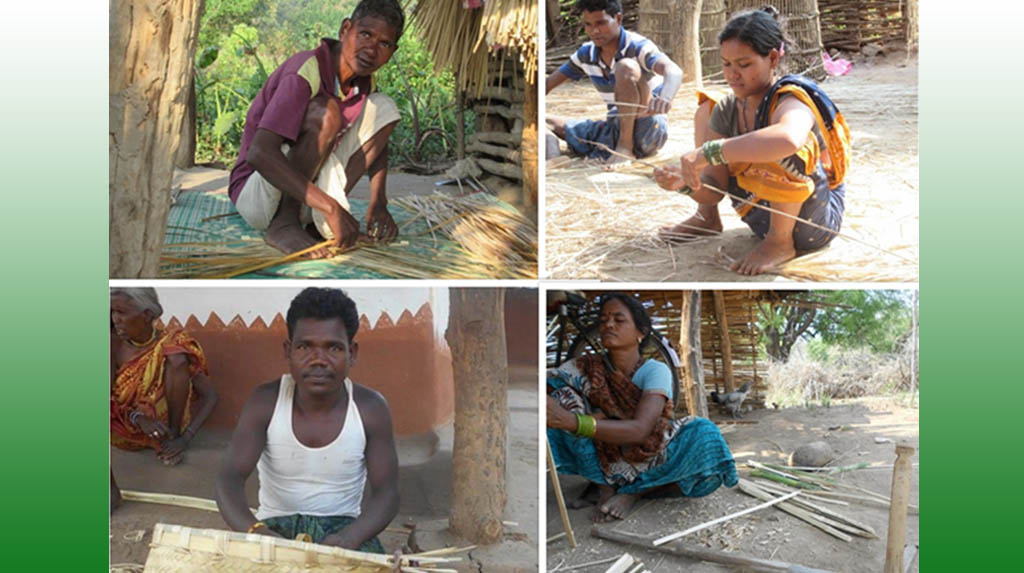 Lopamudra.Behera
As the COVID-19 cases in Odisha climb, and while the entire nation is fighting against the disease, the rural population is worried for work and food to survive. Imposing lockdown and the restrictions in movement has been a challenge for the poor whose livelihood has been shattered, which may prove economically devastating in coming days, if Government will not take proper steps.  Based on this, this story captures the voices from the Paharia communities from Nuapada district, Odisha, who have been most affected due to national wide lock down pertaining to COVID-19.  The main occupation of Paharia is bamboo basket weaving. They also believe that they were formerly known as Paharia, as they lived in the hills, but that ever since they took up bamboo work they have been called Kamars. As per the official records, Paharias are recorded as Kamaar who are considered as Other Backward Caste (OBC) in Odisha.  But, in neighboring state Chhatisgarh they are recognized as Scheduled Tribe and further they are included under the Particularly Vulnerable Tribal Group (PVTG). Many studies reveal that there has been a close kinship between the Paharias of Southwestern Odisha (Nuapada and adjoining districts) and Chhattisgarh which includes marriage relations. Paharia are struggling to get the status of Schedule Tribe in state.
Buddhuram Paharia (68 years male), a resident from Bhainsadani village of Boden block in Nuapada district, live with his eight family members says " we are helpless now as not getting any source to sell our bamboo baskets. Despite of my old age, I manage to make baskets of different varieties of size and shape as per the demand from market. It is priced between Rs. 50 to Rs. 150 based on the size. I enjoy my work with my family members since this is my traditional livelihood. We sell our products in weekly market. Now, how will I be able to feed my family?" Like him, there are 35 Paharia families are residing in the village.  Most of them are landless and possess no agricultural land. Sometimes work as daily wage labourers or work in other's agriculture field as agricultural laborers or they sell forest produces which is very limited, as the major source of income is basketry. Since, they do not possess any forest title being the forest dwellers they are not entitled to get land development work under MGNREGA. A few very few of them, possess agricultural land but ongoing lockdown to control the spread of coronavirus is threatening the farming sector as it overlaps with the time of harvest.  However, the main occupation of this community is basketry and they depend on weekly market to sell their products, the present lock down has given a bad hit on their lives and livelihoods.  Usually, in normal time they get Rs. 1000/ per family by selling their products in weekly haat at Boden and gets Rs. 500/- to 600/ – as profit. Sometimes, they sell their products through middlemen who come to the village for purchasing their products, but unfortunately it has also been stopped due to lock-down.
Gorsi Paharia, 24, from Bhuipani village of Bonden block says "bamboo basket weaving is the only income source. Me along with my husband Gopi Paharia (30), makes from 50 to 60 numbers of basket of small to big sizes every week. We sell them in nearby market and earn around Rs. 300/- to 400/ sell per week. But, due to the present lock down situation, we are not able to move out from the village. This has badly hit our livelihood. Government should have taken proper measures for the communities like us before imposing lock down, so that we don't get affected in this health emergency".
Maraguda village comes under Boden block of Nuapda district where around 12 Paharia families are living. Dhabai Paharia (36), is one of the habitants from Maraguda village, has six family members. Similarly, like other families of the village she is also facing a lot of problems in selling the bamboo products. Before COVID-19 outbreak and lock down, she was ready with products to sell in the market. She says "If there was no lock down then I would have sold the products of worth between 2000 to 3000 Rupees. This is the only source of our income through which we runs our house expenses. Now we are expecting from Government to support us in selling the products".
However, they have received the dry rations for 3 months and pension for 4 months in advance. But, this will not be sufficient to cater other needs to run the house. This situation is not just grim for the Paharia communities but millions of others who depend on daily wages, forest, agriculture, weaving, and informal sector and so on.
It is important to note that there is the urgency to take immediate proactive long-term measures during and after this lock-down situation, by the Government for the benefits of these most marginalized communities. A mechanism needs to be placed to sell the products. Proper steps for regular marketing of these handicrafts should be taken on priority basis by the Government. More work opportunities through MGNREGA at panchayat level needs to be created without further delay in payment. The rights of Paharia (as OTFDs) over forest resources have not been recognized under Forest Right Act 2006. Being the forest dwellers, not getting any land development work of their forest land under MGNREGA since they do not possess any land title. Hence, linking to them under FRA is highly essential at this hour. Status of Paharia as tribals in Odisha has to be considered by Central Government as this is already recommended by state government. These precautionary measures will be helpful for the communities not to get into further distress.
9 Views