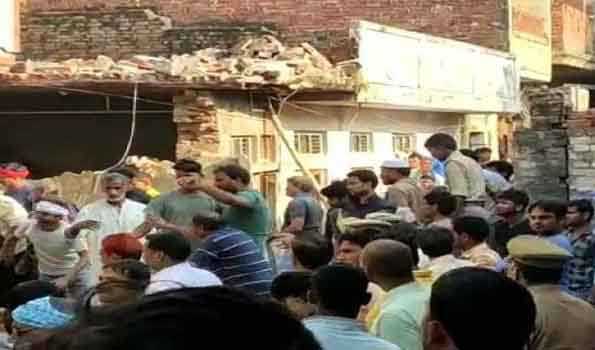 At least 12 people were killed and 12 others were injured in a LPG cylinder explosion under Mohamadabad police station area in the district on Monday morning.
Due to the impact of the explosion, a two storied building of one Kanihiya Vishwakarma collapsed. UP ATS has been engaged to investigate the incident .
While seven people died on the spot and five other succumbed to their injuries in the hospital during treatment. Sleuths of NDRF and other security personnel have reached the spot as several people were still trapped under the collapsed building.
UP DGP OP Singh said that the incident occurred in Walidpur village at around 0730 hrs when a two storied building collapsed in the impact of the LPG blast.
He said the priority of the authorities are to rescue the trapped people and NDRF have been rushed to the spot. The 12 injured have been rushed to the hospital.
District Magistrate Gyanprakash Tripathi said that two houses were damaged in which 24 people were affected.
Police sources said that the number of casualties can increase as several of the injured are in critical condition. Meanwhile, Uttar Pradesh Chief Minister Yogi Adityanath has taken cognisance of the incident of blast in a house in Walidpur Mau.
He has expressed his deepest condolences to the family of the deceased and directed that DM SP and all officers should immediately provide all possible relief and medical help to the injured.
235 Views