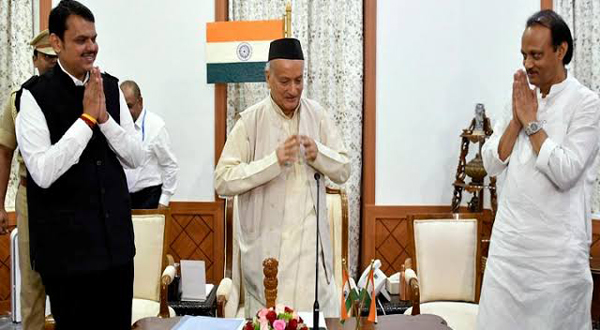 Mumbai, Nov 23 In an overnight political twist, Bhartiya Janata Party's Devendra Fadnavis took oath as the 19th Chief Minister of the state for a second consecutive term on Saturday morning while Nationalist Congress Party's Ajit Pawar was sworn in as Deputy CM.
The surprising move comes a day after NCP President Sharad Pawar indicated that a consensus has been evolved on Shiv Sena President Uddhav Thackeray for the top post.
According to sources, the Fadnavis will have to prove majority on the floor of the House by November 30.
Governor Bhagat Singh Koshyari has set a November 30 deadline for the NCP-BJP government to prove its majority in the Vidhan Sabha.
In the ongoing row, BJP MLA Girish Mahajan has claimed that Ajit Pawar has submitted a letter to the Governor where all the 54 NCP MLA's confirmed their support for the alliance.
However, there seems to be a rift appearing in the NCP as the party's supremo Sharad Pawar said that his nephew's decision to support the BJP to form the Maharashtra government is his personal decision and not that of the Nationalist Congress Party.
After taking oath of Chief Minister, Mr. Fadnavis said that before the assembly elections in Maharashtra, we had an alliance with the Shiv Sena, but after the election, Shiv Sena was trying to break our alliance and form a government with Congress and NCP. "I would like to express my gratitude to NCP's Ajit Pawar ji, he took this decision to give a stable government to Maharashtra & come together with BJP. Some other leaders also came with us and we staked claim to form government.", he said.
Ajit Pawar, after administering oath as Deputy CM, said that NCP was in talks with the Congress and Shiv Sena for the last several days but due to the negotiations not coming to any conclusion and he ended up forming a government with the BJP to end the President's rule in Maharashtra.
Meanwhile Prime Minister Narendra Modi congratulated Mr Fadnavis. "Congratulations to Devendra Fadnavis Ji and Ajit Pawar Ji on taking oath as the CM and Deputy CM of Maharashtra respectively. I am confident they will work diligently for the bright future of Maharashtra", he said in a tweet.
Union Home Minister Amit Shah also congratulated the new Maharashtra dispensation. In a tweet he said that he is confident that this government will be continuously committed to the development and welfare of Maharashtra and will set new standards of progress in the state.
33 Views