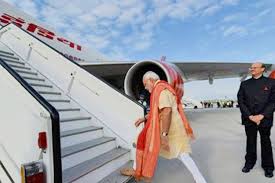 Samikhsya Bureau
Prime Minister Narendra Modi turns 70. There is no platform that is not laced with the birthday wishes of unprecedented magnitude and the feel for a man who has kept the entire nation and people outside, bewitched with his enviable strides for last six years almost.
A man of the yesteryear, clad in a 'dhoti' and light bottle green 'khadi kurta' had had a brief chart with the media, over snacks comprised of 'samosa' and 'bada' at the then modest BJP office in Bhubaneswar.
His tenor of interaction had hardly any tinge of pretensions or any dramatics. He had a  curt straight a preacher like approach, foreseeing game changing cycles in politics. The fire that was discernible in his eyes did connote then, could hardly betray the ambitions and doggedness later took him miles.
As the chief minister of Gujarat, his tryst with odds and victories were all known and it is history by now.
Someone and somehow could foresee the potential hidden within the man who could later play an Alchemist kind of role to metamorphose words into action regardless of the success and failures. Many of his actions spiraled out their own ambit and, perhaps, those hardly postulate a tedious repetitions  now. With those notes he completed 2014 to 2019 with haunting spectres of predictions about a slide in popularity. And he shocked many Nostradamus by his confidence.
Luckily, for the NDA, and Modi himself, days before the 2019 general elections, at a time when the fulcrum suffered trembles of uncertainties , incidents like Pulwama and Balakot came in handy for the required  blend of patriotism and politics.
The dividends were not wasted for sure and Modi's role as a mascot of nationalism took him extra miles. The diplomatic successes,  subsequently, mainly after abrogation of Article 370, were stupendous.
Modi came back in 2019 and that too with a shocking majority that proved an weapon to not only get things done albeit the situation at home, at the economic front, suffered a diabolic erosion which he tried, and tries still, to bury under the 5T tangents.
The prime minister has a penchant for doing things, rather many things, in public glare being least bothered about the abstruse reactions from the opponents in politics.
That way he never failed to cap any occasion that came on the way, be it fitness or meditating in caves or a dare-devil strike at our rogue neighbor or even a day out with Gryll at Kajiranga tiger reserve. He somehow managed to remain ubiquitous.
Heartburn from the other side of the fence has not helped demean his aura so far and at 70 he can manage to leap on to the flight's stairs like youngsters.
35 Views