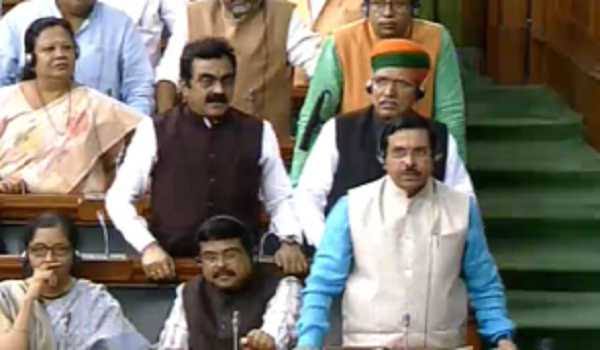 New Delhi, Dec 2:  An unrelenting treasury bench including Parliamentary Affairs Minister Pralhad Joshi on Monday raised Congress president Sonia Gandhi's foreign origin bogey in Lok Sabha to slam Adhir Ranjan Chowdury's 'infiltrators' remarks on Prime Minister Narendra Modi and demanded that he should tender an unconditional apology.
The issue figured more aggressively during post-lunch session when the House was to take up the Taxation Laws Amendment Bill, 2019. Raising the issue BJP's Nishikant Dubey and his party colleagues Sanjay Jaiswal and Rajendra Agarwal said Congress floor leader's remarks against  Modi and Home Minister Amit Shah ought to be condemned.
"For long Mr Chowdhury is known for sympathising with Bangladeshi infiltrators and irony is he made the statement against Prime Minister Modi and Home Minister Shah calling them infiltrators,"  Dubey said.
Sanjay Jaiswal and Rajendra Agarwal and Parliamentary Affairs Minister Joshi himself said that Congress party itself is led by someone who came from Italy.
"It is a known fact that Sonia Gandhi was reluctant to take Indian citizenship even after her marriage,"  Agarwal said.
Parliamentary Affairs Minister maintained: "…..Congress president (Sonia) herself is an infiltrator".
BJP lawmaker Rama Devi, who was on the chair, also said that the Congress leader should tender apology.
"Yeh achhi baat nahi hae (Such remarks are not good)," Rama Devi said while Mr Chowdhury tried to justify his remarks against  Modi and   Shah made outside House on Sunday.
The Congress floor leader said the treasury bench was making a mountain out of a mole hill.
"Aap til ko taar kar rahen haen…Humne Ram Kaha, aapne Shyam Suna….," he said and along with his other colleagues took exception to BJP members raising Sonia Gandhi's foreign origin. The Parliamentary Affairs Minister insisted that  Chowdhury's remarks "should not go on record" and he be asked to tender apology.
"If the Congress party has little sense,  Chowdhury must tender apology," he said.
However, the Congress leader remained defiant. Later,  Joshi maintained if  Chowdhury would not tender apology, the ruling side would be compelled to demand such gestures from Congress president Sonia Gandhi and Rahul Gandhi.
At the end as the Congress leader declined to tender apology, Parliamentary Affairs Minister said as the Congress party is being 'insensitive', the House could take up the Taxation Bill.
Earlier during Zero Hour as well, BJP member Uday Pratap Singh, who had given Notice for Adjournment Motion over 'derogatory remarks made by Chowdhury', said such remarks against top BJP leaders were not acceptable.
"Prime Minister Modi is not merely a BJP leader, he is the pride of the nation," Mr Singh said amid support from several party colleagues.
The Parliamentary Affairs Minister and his junior colleague Arjun Ram Meghwal also demanded that Mr Chowdhury should tender apology forthwith. Amid the din as many BJP MPs raised their voice against him, the Congress leader said first they should listen to him and only then they should insist for his apology.
19 Views