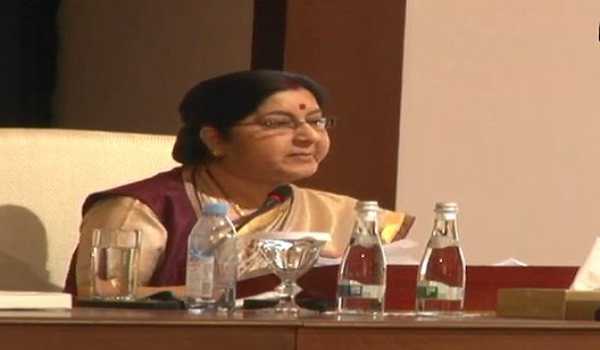 By Nirendra Dev
New Delhi, Aug 6 (UNI) A fantastic orator and seasoned parliamentarian and a creator of Twitter Diplomacy, she might go down the memory lane as the best woman Prime Minister India never had. Leader of the Opposition in the 15th Lok Sabha after veteran L K Adavani had decided to opt out from the coveted position, Sushma Swaraj was the face of BJP's battle against corruption-ridden UPA dispensation between 2010 and 2014.
However, as the lady luck would have it, in the subsequent period, her political career got sidelined as the saffron outfit banked on the powerful 'image' of Narendra Modi – a right synthesis of a catalyst for development and Hindutva face of the BJP. She became External Affairs Minister under Prime Minister Narendra Modi but there was a alleged 'chill' between the two leaders – at least the public perception was largely so.
However, look at the irony of things; just two-three hours back she took to social network and thanked Prime Minister for revoking Article 370 from Jammu and Kashmir and wrote: "Thank you Prime Minister. Thank you very much. I was waiting to see this day in my lifetime".
True it was a dream come true for a woman leader in a party – where due to historical reasons or ideological backlog of RSS – male chauvanism was considered a known thing even a few years back.
A few years back, veteran L K Advani hailed Sushma Swaraj's contribution as Health Minister under Vajpayee and he was so much impressed by her oratory skills that he had said, "I am hardly a good speaker. But Sushmaji is one. After Vajpayeeji, if anybody had given me complex about speaking in public or in Parliament it is Sushma Swaraj".
Late Swaraj was blue-eyed-girl of patriarch L K Advani in more ways than one and after 2009 poll debacle when BJP and Advani himself decided to opt for a change in leadership in the Lok Sabha; Sushma Swaraj used to be very particular and used to tell media: "Never report, I have replaced Advaniji…We have grown up under him. It is only at his directives that I decided to take the responsibility as Leader of the Opposition in Lok Sabha".
Her speech in Lower House of Parliament on the day the Bill on creation of Telangana state was passed was considered as one of the best in recent times.
As External Affairs Minister since 2014, while PM Modi dominated the serious diplomatic scene, Late Swaraj discovered the tool of Twitter and excelled in that as she made friends worldwide and helped Indians in distress.
It is not without good reason that in December 2016, Sushma Swaraj was listed among 100 leading  global thinkers for the year 2016 by a leading international magazine for 'fashioning a novel brand of Twitter diplomacy'. The honour came from reputed periodical 'Foreign Policy'.
In June 26, 2017, Prime Minister Modi had lauded Late Sushma Swaraj for giving 'human face' to diplomacy and had said that the latter's effective use of social networking can be linked to 'good governance'. So much has been the power of her Twitter-linked delivery in governance that new External Affairs Minister Dr S Jaishankar, who succeeded her, had in June pledged to "follow" on the footsteps of his predecessor Swaraj.
"My first tweet. Thank you all for the best wishes. Honoured to be given this responsibility. Proud to follow on the footsteps of Sushma Swaraj ji," Dr Jaishankar tweeted. In another missive in the social networking site, he wrote: "We at Team MEA India continue to be at your service 24×7. Happy to be leading the effort with my colleague MoS Muraleedharan ji".
Tags:
64 Views