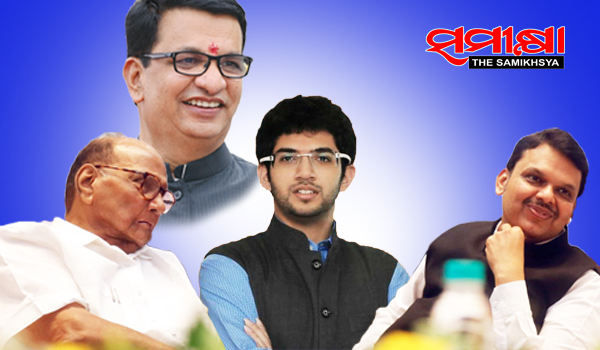 Samikhsya Bureau
While the debate over the alleged brokerage over the visit by foreign national tp Kashmir chokes the Indian government like an albatross sending the NDA look for excuses, a bigger question that stares on the face of the Modi-led NDA like a monster is, who is Madi Sharma and what business the Sharma run NGO had to do with Kashmir!
Back in Maharashtra,  the stand-off between the BJP and the Shiv Sena exposes the chinks in the armour of the BJP in particular.
A kind of cockfight in underway between the two long- time allies now washing dirty linens in public as who sits on the chief minister's chair. The fight that is still on not only smacks of a cheap politicking not behooving to the stature of both the parties like the BJP and Shiv Sena, but the entire gamut of the conflict shows a deteriorating level of politics for power.
Understandably, the BJP which claims to be a political party founded on discipline and unity has not been able to iron out the differences thus allowing an atmosphere of rudderless cycle of craze for power for last one week almost.
Sena is no mood to budge from its claim on a 50-50 power-sharing formula, as on date, the BJP has gone far to announce a swearing in of the BJP chief minister Debendra Fadnavis on coming Friday. What can be best described as a politics of confrontation!
How ideologies get burnt in pyres of power
It was never in the minds of the political analysts that, the two parties would drag power politics to this level where political trading seems to be the only eventuality where the Nationalist Congress Party led by Sarad Pawar  emerges to become a likely game changer.
But the bigger question is, can the BJP swallow its pride to shake hands with the NCP  who is a stereotypical political partner of the Congress. A party (Congress) that the BJP has been taking on not only as its enemy but  a party which has allegedly remained an agent against the NDA's avowed nationalistic politics.
Or, on the other hand, the NCP and the Congress have to part their ways, if time postulates that situation,  in Mumbai for power. And that remains to be seen if the BJP can play an alchemist in Maharashtra and turn Pawar a saffron sympathizer .
60 Views