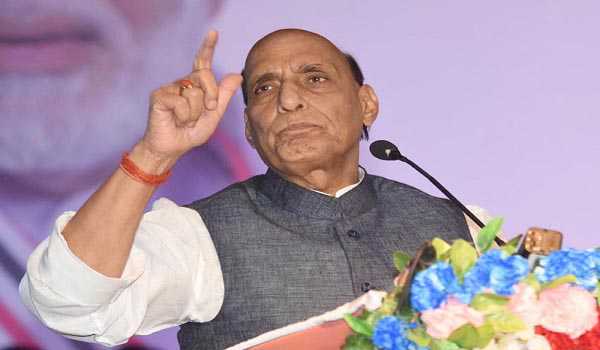 Defence Minister Rajnath Singh today described the abrogation of Article 370 as historic move of the Narendra Modi government in handling unrest in trouble-torn Jammu and Kashmir (J&K) and declared that there would no talks with Pakistan saying if it was held, the agenda would be Pakistan occupied Kashmir(PoK) and nothing else.
Singh, while speaking at a public awareness programme organised in Patna by his party BJP on the theme, abrogation of Article 370, a correction of historic blunder on Jammu and Kashmir, said that the decision to repeal Article 370 giving special status to Jammu and Kashmir was historic as it would not only help in fulfilling aspirations of the people of the state but also in handling with firm hand, any attempt of disruptive activities aimed at disturbing peace and harmony in the state.
The provision of Article 370 for Jammu and Kashmir only brought discrimination with people of the state in comparison with citizens of the country living in other states besides 'unrest' which had claimed lives of 41,500 civilians and 5,500 jawans and officials of armed forces and other security personnel in a long period of past several decades, he added.
"Pakistan has been promoting cross border terrorism to create troubles in Jammu and Kashmir but it would not be allowed further in the new prevailing scenario in the state", Defence Minister said and challenged Pakistan to patronise as many terrorists as it could but they would not be allowed to infiltrate in India and they would not be spared by Army jawans deployed on border if showed any misadventure.
Singh ruled out any talks with Pakistan on Jammu and Kashmir saying the agenda would be only Pakistan occupied Kashmir (PoK) if talks with the neighbouring country materialised in future. Pakistan should forget about Jammu and Kashmir and the country should have a concern on the fate of PoK in future, he warned. (UNI)
18 Views