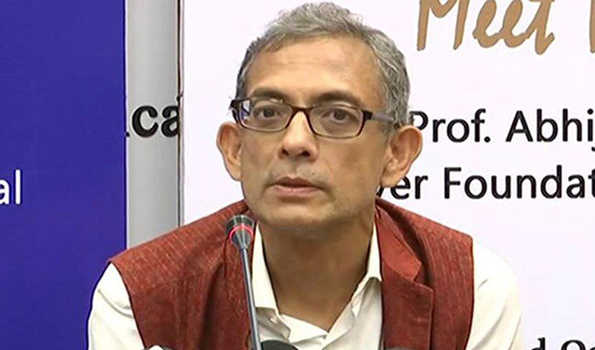 Nobel Laureate Abhijit Banerjee said on Tuesday that a large part of his work in India is directed towards education and improving quality of teaching.
'A large part of my own work in India is on education, trying to improve quality of teaching,' Dr Banerjee told reporters here after in a press conference after meeting Prime Minister Modi.
Talking about healthcare and the spending on it he said 'We have one of the highest shares of private expenditure. So, the healthcare budget is not at the margin, people are spending money. The question is, are they spending money on the right things?'
In the wake of Punjab and Maharashtra Co-operative Bank fraud, he said banking crisis is frightening.
'I think we should be vigilant about this and be able to stop it way ahead of time,' he averred.
Banerjee, who met Prime Minister Modi earlier on Tuesday, said   Modi started by cracking a joke about how the media is trying to trap him into saying anti-Modi things.
Modi said the country was proud of the accomplishments by Abhijit Banerjee, the 2019 Economics Nobel winner.
Modi interacted with Banerjee on various subjects when the Nobel Laureate called on him this morning and extended wishes for his future endeavours and termed the meeting 'excellent'.
'Excellent meeting with Nobel Laureate Abhijit Banerjee. His passion towards human empowerment is clearly visible. We had a healthy and extensive interaction on various subjects. India is proud of his accomplishments. Wishing him the very best for his future endeavours,' Mr Modi tweeted.
Union Minister Piyush Goyal on October 18 dubbed Indian-American Abhijit Banerjee, who won the 2019 Nobel for Economics, as Left-leaning. The Nobel laureate said  Goyal was 'questioning his professionalism'.
Recently, Banerjee had assisted the Congress in the NYAY scheme which was aimed at ensuring minimum income guarantee ahead of the General Elections earlier in 2019.
Dr Banerjee will go to his paternal home in the city to visit his 83-year-old mother after winning the global award.
Banerjee shared the 2019 Nobel Memorial Prize in Economic Sciences with his wife Esther Duflo and Michael Kremer "for their experimental approach to alleviating global poverty".
(UNI)
9 Views