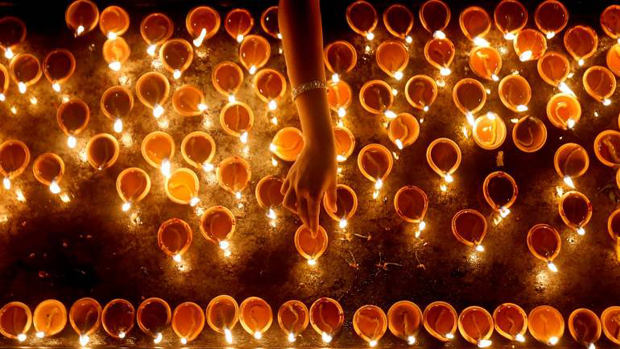 More than 5.51 lakh diyas (earthern lamps) will be lit up in Uttar Pradesh's Ayodhya this "Deepotsava", a prelude to the festival of lights Diwali.
Last year, Ayodhya broke a Guinness World Record by lighting more than three lakh earthen lamps and keeping them lit for 45 minutes.
This year, the four-day "deepostav" will start from October 24. State Additional Chief Secretary (Information) Awnish Awasthi said here on Friday that shobhayatras (processions) by artists from Sri Lanka, Indonesia, the Philippines, Nepal and India will be taken out on six themes of the Ramayan.
"The government intends to make this mega event grander than the previous two editions. We will have a larger deepotsav this time which will extend in a bigger way along the Saryu river in Ayodhya. The Ram Ki Paidi ghat (which is lit up with earthen lamps) will not have still water this time but flowing water. The irrigation department has commissioned a new project for pumping water into the Ram Ki Paidi which is expected to start this time," the UP government's tourism department has said in a concept note.
This year, the deepostav programme is being extended up to Bharat jee Taposthali Nandigram which will be an added attraction. Last year, South Korea's first lady Kim Jung-Sook was invited as the chief guest.
25 Views