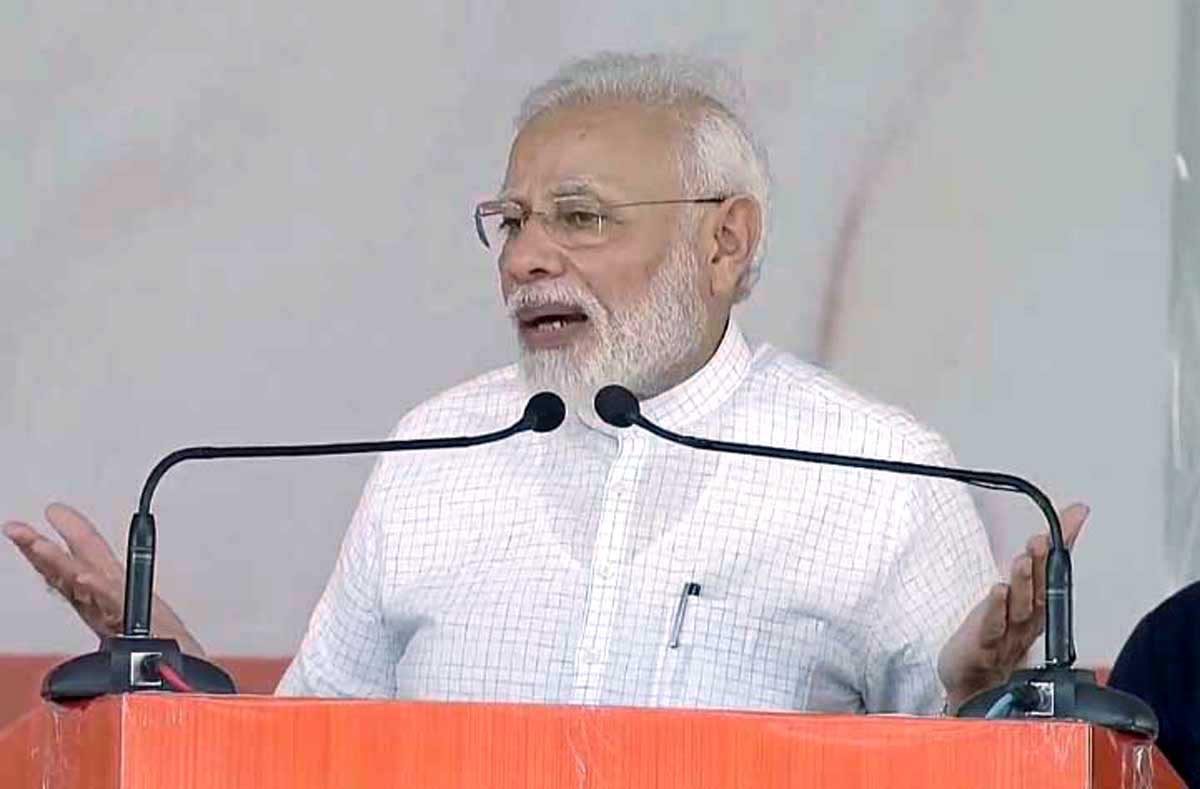 Ahmedabad, Oct 2 (UNI) Prime Minister Narendra Modi on Wednesday declared India open-defecation free (ODF) country and said that the merely construction of toilets was not enough and its regular use should be made a habit.He also claimed that the cleanliness drives in the country have also increased productivity of the nation.
Addressing an event of clean India mission attended by around 20 thousand sarpanchs from across the country, he also appealed all the 130 crore countrymen to take a pledge each for the betterment of the country.
After issuing postal stamp and coin on Mahatma Gandhi and distributing prizes for under clean India mission PM Modi also bowed to the audience mainly sarpanchs for their contribution to the mission and making India ODF. He said that it was not due to the government that the ODF target has been achieved but it was due to the contribution of all the citizens.
On the occasion he distributed prizes to students of Puducherry S Vishwa and that from Goa S S Fernandes as winners of letter writing contest on cleanliness is service theme, Sarpanch from Basdila Khas village of Bihar Sharmila Devi, Kareena Khatoon of a village from Chhatisgarh, and L Lingkhoye from Meghalaya for their contribution to clean India mission. He also awarded Pedapalli town of Telangana as the cleanest rural town and Uttar Pradesh and Gujarat as the clean states under various categories.
Modi said that he was feeling as if history was repeating itself. As lakhs of Indians had participated in the freedom struggle on the appeal of Mahatma Gandhi he felt that now lakhs of countrymen have whole-heartedly supported his call for cleanliness.
He said that earlier people hesitated to talk about toilets but today it has become a part of the thinking of the countrymen. The whole world was surprised at our achievement of constructing 11 crore toilets for 60 crore people in merely 60 months. It has benefited us in many ways. The woman folk has got rid of the pain of waiting for dusk to relive them. The spending of poor people on diseases has also gone down. New employment opportunities in the rural and tribal pockets have been created. According to Unicef a large chunk of employment opportunities in last five years were in the rural areas and it has also increased our productivity.
He said that what has been achieved today was just one stage.PM Modi also urged people to shun the single use plastic. He said that by 2022 the country should completely get rid of it which was responsible for so many problems. He said that during the last 3 weeks of cleanliness is service campaign 20 thousand tonnes of plastic garbage has been collected.
Pointing towards the presence of representatives of three countries Nigeria, Indonesia and Male, he said that the whole world was willing to learn from our cleanliness model and we were also ready to share our experiences.
Tags:
21 Views