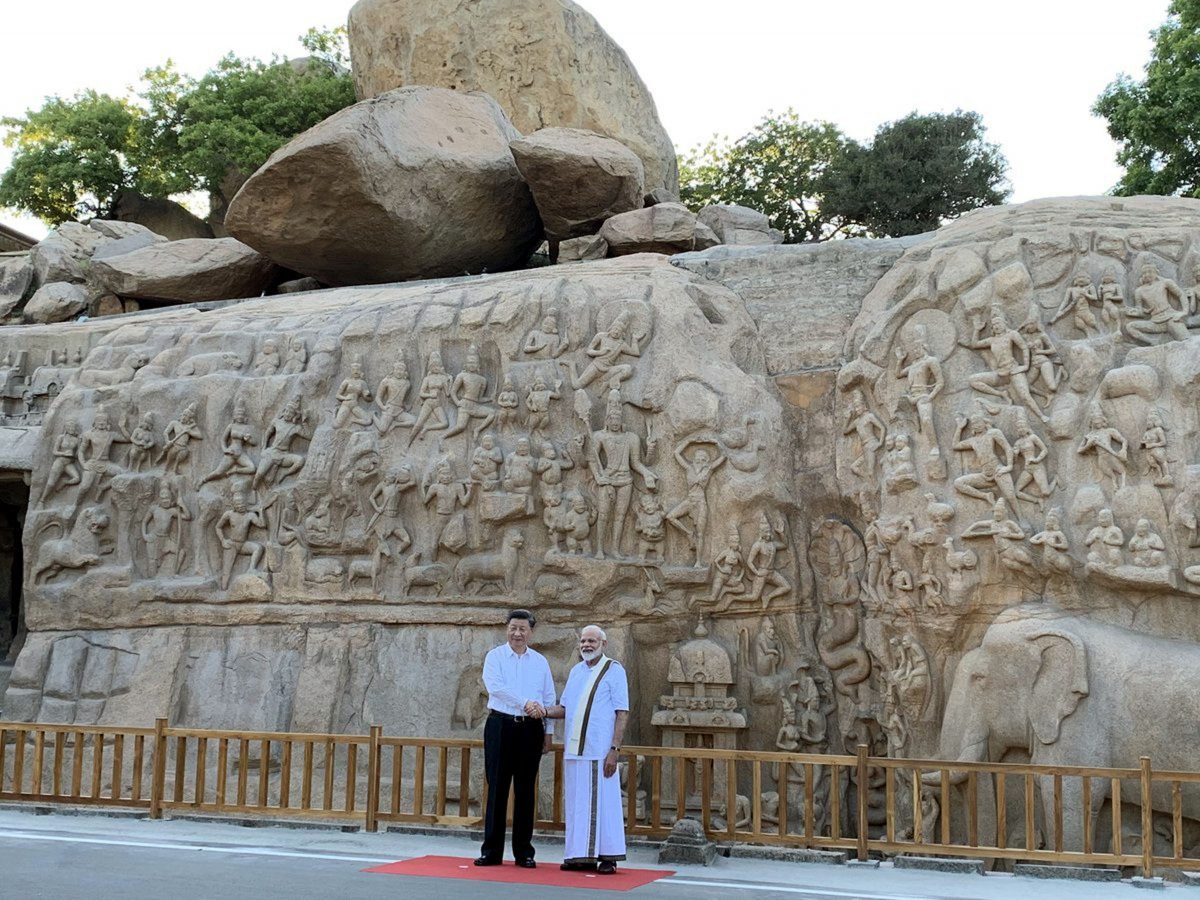 Chennai, Oct 11 (UNI) Prime Minister Narendra Modi donned the role of a tourist guide on Friday as he took the visiting Chinese President Xi Jinping to a guided tour of the world famous Mahabalipuram, classified as World UNESCO Heritage site. The monuments here were cultural icons of the ancient Tamil architecture.
According to the UNESCO, "this group of sanctuaries, founded by the Pallava kings, was carved out of rock along the Coromandel coast in the 7th and 8th centuries." Dressed in crisp white shirt, dhoti and Angawastaram, Mr Modi received Mr Xi Jinping at Arjunan's penance in this coastal town of Mamallapuram, ahead of the second Informal Summit between them. Both the leaders looked relaxed.
During the nearly one hour walk-the-talk visit, both the leaders saw the famous caves and stone sculptures carved during the seventh century Pallava rule. After a big hand shake and exchange of  pleasantries, both of them had a pep talk for a while and then walked through the heritage sites of Shore Temple and Five Rathas. Not many Presidents and Prime Ministers will be fortunate enough to have another country's Prime Minister as a tourist guide!
But Mr Xi Jinping, clad in black trouser and white full shirt, was fortunate to have Mr Modi as his 'guide' explaining the significance of the monuments in Mahabs. During the visit, Mr Modi explained the historical importance of these places built by the Pallavas during the seventh century. They sipped tender coconut water and held talks for some time overlooking the Bay of Bengal, after posing for photographs by raising their hands – showing signs of Unity – in front of the Krishna's Butter Ball.
Both the two leaders were seen chatting as they walked through the seventh century monuments. After Arjunan's penance, where Mr Modi explained the finer details of the motifs to Mr Xi, they visited Krishna's Butter ball–a gigantic boulder weighing about 250 ton seated on a short incline. Though it may look like that the boulder would roll down anytime, it has been there like that for aeons.
Both the leaders later visited the famous Shore Temple and the Five Rathas, as all the monuments and the coastal town were tastefully decorated and illuminated for the visit. Later, they witnessed a cultural programme by the famed Kalakshetra troupe at the Shore temple before leaving for the dinner hosted by Modi.
22 Views