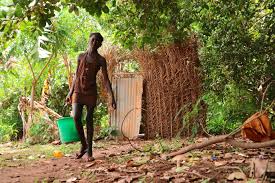 Samikhsya Bureau
If statistics can be the yardstick to measure developments , then India has done it. No unemployment, no dearth of health service, no lack of peace in India and, as the Prime Minister, Narendra Modi made it public from Sbarmati, India has become Open Defecation Free(ODF). It has come from the prime minister so, all have to believe and anyone dare contest that can en-risk being branded anti-Indian. So let us leave at that.
The call given by the prime minister hours after he assumed power as the PM in 2014, he had made it as one of his primary aims to make India 'swachh' (clean) and obviously ODF  remained one of the major objectives  that the NDA under Modi tried for.
It was no small news and that too coming from the PM. But one can hardly resist from being cynical that if the people responsible behind giving feedbacks to the PM are in touch with the ground realities in a country as vast as India.
Why to go as far as Ganjam district which still suffers from such practices of OD on the roadsides as already described by a colleague in his columns in this site, back in Bhubaneswar also, there is no lack of such scourges like open defecation.
Take a walk on the platform no 6 in Bhubaneswar railway station after evening. At the end of the almost one km long lovely platform one is bound to stumble upon the filth of defecations along the tracks which goes beyond and beyond. It is not to blame the railway authorities but the people who reside in that area mainly in shanties and the local authorities of the state or railway who choose to look the other way.
A walk on the sea beach of Puri, in the wee hours can present sights in an area known as Penthakata, a colony of fishermen, where the residents stick to their habitual resorts of defecating on the open beaches at early dawn.
There are en number of places and areas where there may be toilets, even the ones like the bio-toilets in certain  areas in Bhadrak districts and nearby, but those facilities fail to serve the purpose due to lack of water or some being abused by users. A terrible dearth of loo manners can be seen in many places. Travelling in trains can reveal the darker side of it's users of the facilities and how are they abandoned unusable after the use.
What about the people who are engaged, now-a-days, privately, as sewer workers to clear the clogging in pipelines amid that horrible stench and suffocation. Many have already died due to asphyxiation inside yet it still goes on.
Although on his part the prime minister has taken the right initiative at cleanliness but it requires some time before a balance is struck. The hurry triggered by the political exigencies, more often than not, come on the way of a flawless transition.
45 Views