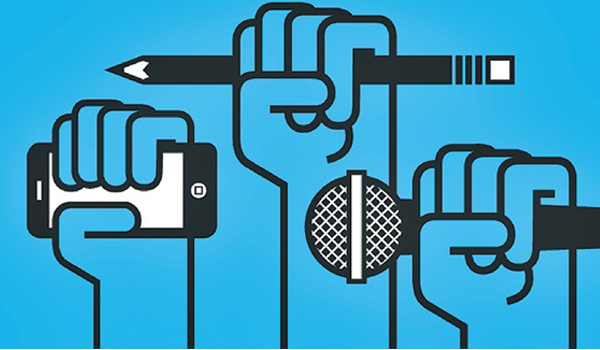 Samikhsya Bureau
At a function the vice President of India M Venkaiah Naidu on Saturday said that ' core values of journalism getting eroded' and he has attributed the reasons to ownership of media houses, mainly TV channels, by political parties and business houses. He has a point that is close to accuracy.
But a real post mortem can reveal more things those normally escapes public attention. The core thing is it is the powerful who give birth to such ethical distortions and who gives them power and shelter is something the political class has a role to pontificate.
That way, politics, in one or the other way, plays pivotal roles behind the ethics going off-track. Media is driven not merely by ethics. Like an empty bag cannot stand upright, media too looks for certain things, all known, for survival.
Even that being assured, there is the factor like coercion that comes into play. Where the media breaks out of the fixed point charts(FPC) to please a certain dispensation else, some hurdles are raised on the way when a media house bows down to pressures to toe a particular line and that is where the role of a journalist stands in between ethics and compromise. And, not to be economical with the truth, such symptoms are more pronounced in last five years when journalism, unwillingly even, gives in to the political or corporate agendas.
So, to leave the media alone to regret for the decline is unfair. That reminds the earlier eras of journalism when even an ephemeral piece by a journalist remained examples of acuity. His straightforwardness has one behind him or her to stand by and politics of that time was never so vindictive towards media.
While talking on fair journalism, a sentence of Cyril Connolly where it said that ' he could not blow his nose without moralising on the state of the handkerchief industry'. That speaks a lot where lies the fault.
Journalists get pink letters if they dare a 'neta' of certain dispensation or a person in power. It has happened in India at the national level and at the state level also. The wearer knows where the shoe pinches so, there is hardly any need for further elaboration.
Many known names have virtually disappeared or singed within the limits of Websites or portals where gestation period can kill your strength for survival. The owners of such platforms are also a ephemeral lot where professional sustenance for a good journalist reduces to penury.
So, it is not at all different at the regional sphere also. When literary journalism of yesterdays is on the wane, a journalist is bound to be driven by policies of a media house or thrust upon from the  corridors of power.
Revenue modules set for web platforms are so bad that, even the vernacular journalists work under stringent financial pressure, let alone the ones who are into English, who can volunteer to work free.
Politicians have the vanity to tease the profession but they are not altogether unaware that, objective approach by a journalist is no more valid in the circumstances, other than   getting eroded by the termites in the power corridors.
42 Views