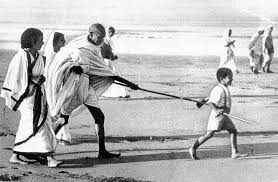 Samikhsya Bureau
Several occasions those call for celebrations and commemorations are always made to get lessons from the past and set the path ahead. On this day of the Mahatma's 150th  birth anniversary, his special attention at children of the country as the fabrics for a sound society cannot be overlooked.
Children of the day, as the entire nation is now concerned with, are the assets everyone must cherish. They are innocent, they are naughty yet they epitomise love and when they are allowed to undertake a role they justify that with remarkable depth, innovation and blaze the situation to create a path and pave it so perfectly even adults may find difficult to walk on without faltering.
Mahatma had seen such traits in children and always advocated through many of his writings. Dangers on the children are on a rise and so do our concern to build a safety net to coast them forward.
It is heartening to see child helpline centres at many locations and some organisations associated with child welfare patiently pursuing the cause to fine tune their psychology.
PECUC in Odisha has played a stellar role on child welfare and keep doing so with a doggedness. Children are always fond of change and fun and so do such organisations like Pecuc that has engaged itself with an advocacy for children in various formats.
Variety is something that attracts children and events like get together for children where they find a scope for fun and frolic and, of course, a bondless area for deviations from monotonies.
This year too Pecuc repeats its endeavour at honing the skills hidden within the children, fighting for long, sometimes, to create a condition for an entertaining distraction through events like 'Sisu Mela' etc. Where children cutting across clumsy divides like class and community merge in one colour only. They debate, interact and often ends in a chaos but not without a trail of newness for all to take a lesson or two.
38 Views