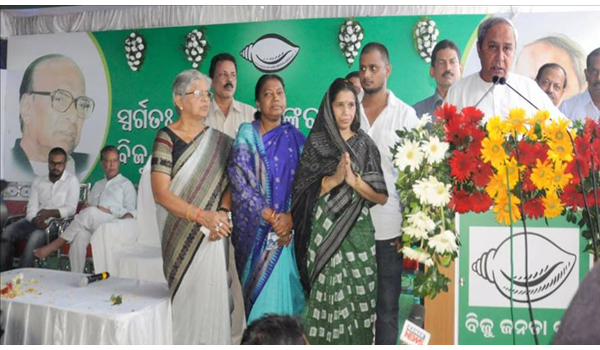 Bhubaneswar:Ruling BJD candidate Rita Sahu won the Bijepur Assembly by poll defeating her nearest rival BJP candidate Sanat Gartia by a record margin of 97,990 votes. According the official source, BJD candidate Rita Sahu had garnered 1,35,957 votes while BJP candidate Sanat Gartia had polled 37,967 votes and Congress candidate Dillip Panda polled only 5,876 votes. Ruling BJD retained the seat.
Chief Minister Naveen Patnaik today congratulated Rita Sahu for her huge historic winning breaking all records in the electoral history of Odisha. In the 2019 Assembly election,  Somuya Ranjan Patnaik of BJD had won the Khandapara Assembly seat with a record margin of 81,430 votes.
In the by election, Rita Sahu not only set a record winning margin but also crossed the winning margin of Chief Minister Naveen Patnaik who had won the Bijepur Assembly seat in 2019 election defeating BJP candidate Sanat Gartia by a margin of 57,112 votes. The by election to Bijepur Assembly seat was necessitated after Chief Minister Naveen Patnaik who won both Bijepur and Hinjili assembly seats in 2019 election, vacated the Bijepur seat.
In the 2019 Assembly election, Chief minister Naveen Patnaik had polled 1,10,604 votes while his nearest rival candidate Sanat Gartia of BJP got 53,482 votes and the Congress candidate Ripunath Seth garnered only 14,344 votes. The votes polled by BJP candidate Sanat Gartia in the by election in compare to his last election has disheartened the party's rank and file as BJP was confident of giving a tough fight to the BJD candidate.
In 2019 Assembly election, Mr Gartia polled 53,482 votes which has been reduced to 37,967 votes in the just concluded by election. Rita Sahu had won the Bijepur by poll in 2018 defeating her nearest rival Ashok Panigrahi of BJP by a margin of 32,833 votes. This time she almost tripled her winning margin defeating the BJP candidate.
The by election in Bijepur in 2018 was necessitated following the demise of sitting Congress MLA Subal Sahu and the ruling BJD nominated his widow Rita Sahu as party candidate to contest the by poll. This time prior to the by poll in Bijepur Assembly seat, senior BJP leader and former MLA Ashok Panigrahi who was an aspirant for the ticket, resigned from the party and openly campaigned in support of BJD candidate Rita Sahu, upsetting the poll prospect of the BJP in the by election. (UNI)
42 Views